Custom Inscriptions for Engraved Jewelry and Keepsakes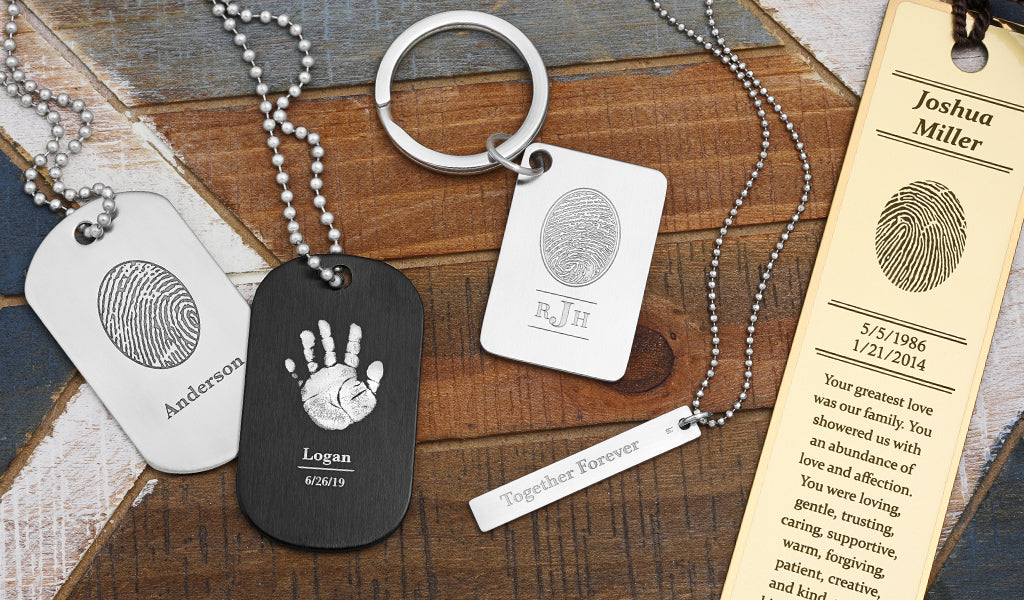 Personalized Jewelry and Keepsakes hold incredible meaning, thanks to the unique lines and grooves of a Loved One's print carefully engraved on your choice of beautiful metal. An added custom inscription can help you experience further closeness to someone you love. Complementing your Loved One's print, inscriptions are able to be engraved on most Keepsakes and Jewelry, and provide both additional beauty and significance to your piece.
Inscription options for personalized Jewelry and Keepsakes include:
Name
The most traditional inscription type for custom Keepsakes and Jewelry is a Loved One's name. A name can be engraved on its own with a unique print or paired with different inscription types – like a date or quotation - for an even more personalized experience.
Monogram
Perfect for the smallest Jewelry and Keepsakes, monograms are another beautiful engraving choice. Known for featuring a Loved One's three initials, monograms themselves can be customized depending on your personal preference or family history.
Date
The date of an important occasion is often paired with a name or quotation to help add further significance to engraved Jewelry and Keepsakes. The date can be a range (for example, birth date to date of death), or a single date that holds special meaning.
Quotation
Whether a biblical verse, a famous saying from a well-known scholar, or simply some words of wisdom from dad, a quotation is a popular inscription choice. Quotations can be a couple of words to several sentences long – you will just need to find what works for your particular wants, and what can fit on your chosen Keepsake or piece of Jewelry.
Jewelry and Keepsakes from Legacy Touch give you the opportunity to customize your piece in a way that brings you unsurpassed connection to your Loved One. Available inscription lengths depend on the Jewelry or Keepsakes you choose, however, most pieces can feature an inscription along with the fingerprint, hand or footprint, or paw print of your Loved One.
Find inspiration for your custom inscription with our examples, here.