Forever Close at Heart – Personalized 14k Rose Gold Fingerprint Charm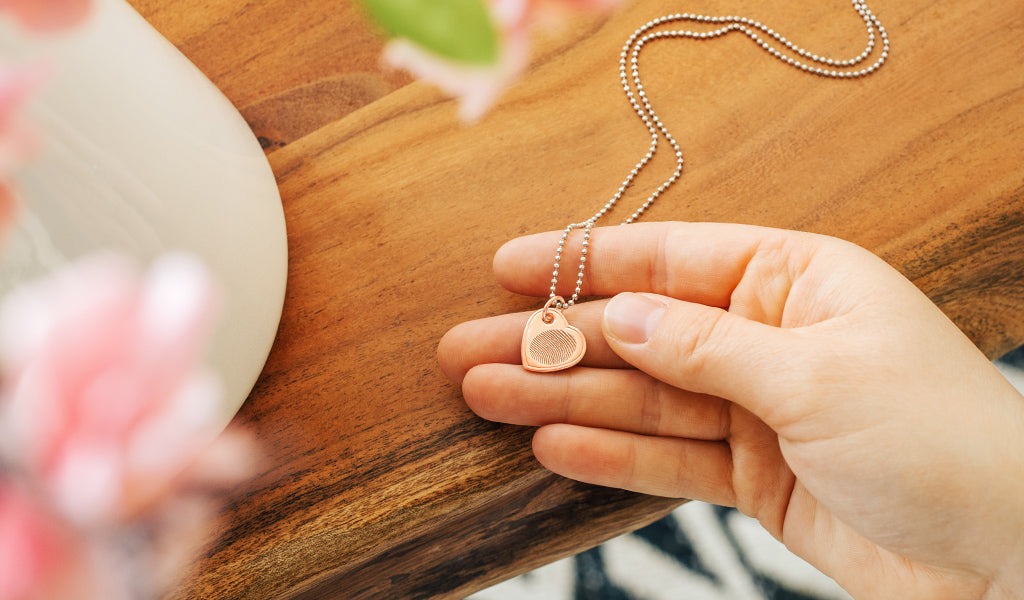 Your Loved One's presence has the power to bring you incredible comfort. We understand that, which is why it is our mission to help families feel connected to one another through Jewelry and Keepsakes respectfully engraved with a Loved One's unique fingerprint. With their touch always near, you can feel the peace of their presence, always.
Recently, families have shared with us the comfort and connection to a Loved One they have felt by wearing their personalized 14k Rose Gold Offset Heart Charm.
"My daughter helped care for my father (her Pappy) during the final month of his life. She is so glad to have an everlasting memento of him she can wear every day." – Andrea K.
"Absolutely beautiful way to carry my mom with me." – Diane M.
"I am so grateful to have something that I can keep with me to remind me of my brother and my best friend." – Katy T.
Knowing how special our symbolic Jewelry can be to you and your family, we treat every piece as our most important. Just like each of our personalized products, our solid 14k Rose Gold Offset Heart Fingerprint Charm is crafted by hand to showcase every line and groove that makes your Loved One's fingerprint so unique. Helping you feel that tangible connection to your family is a privilege that we will never take for granted.
Thank you for sharing your stories with us. May you always feel comforted by your Loved One's presence.