Heartfelt & Meaningful Personalized Gifts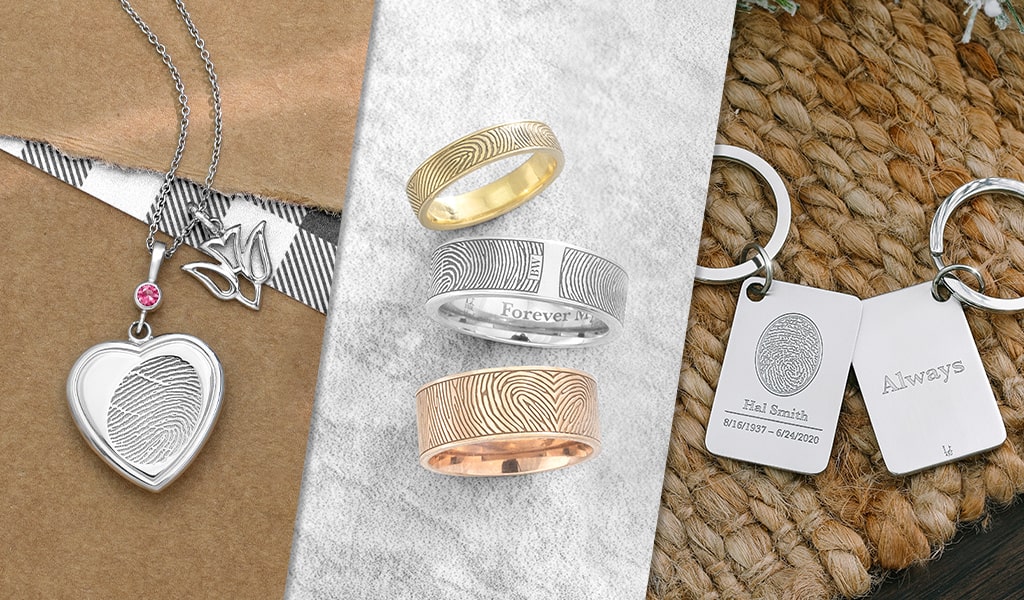 The best gifts are those that give your family and friends a tangible sense of comfort and connection that lasts for days, weeks, months, or even years.
One version of a gift that means more is personalized Fingerprint Jewelry and Keepsakes. A tangible tribute to shared love, our gifts are the perfect way to let your family and friends know how much you care, while giving them a physical reminder of the people they love the most. As they feel their Loved One's fingerprint, they will know that their family is never far away.
As you begin personalizing Jewelry and Keepsake gifts for those you love, make your present even more meaningful by keeping the following advice in mind:
Consider the recipient's style.
You want to be sure to give a gift that your family member will love and will look forward to using. As you customize Fingerprint Jewelry for the recipient, consider their style and what they will want to wear. Choose from Fingerprint Pendants, Charms, Lockets, and more in a wide range of metal types and colors to find the perfect gift.
Think about the recipient's hobbies.
The gifts with the most meaning are those that can become a part of the recipient's everyday life. Give them a Keepsake they will always keep near by thinking about what hobbies they are involved in. If your family member likes to be outdoors, consider a Case® Knife engraved with their Loved One's fingerprint. If they are an avid reader, create a Fingerprint Bookmark that includes a favorite quotation. When they see your thoughtful gift each day, they will be reminded of and comforted by the bond they shared with their Loved One.
Include multiple Loved Ones.
The holidays are about bringing families together, so consider including as many people as you can in your gifting. There are a few different ways you can do this. One is to give matching pieces to different family members – like a Stainless Steel Keychain with Grandma's fingerprint given to all of your cousins. Another way is to give the one person you're shopping for a custom Ring with the fingerprints of two people he or she loves engraved side by side on it. The more Loved Ones who are involved, the more wonderful your gift becomes.
There is joy in giving a heartfelt gift to someone you love. As they open their present and realize just how meaningful it is, you can find peace and happiness in knowing that you are a part of such a special experience.
May your holiday season be full of love and connection.