How Double Fingerprints on Jewelry Help Families Stay Close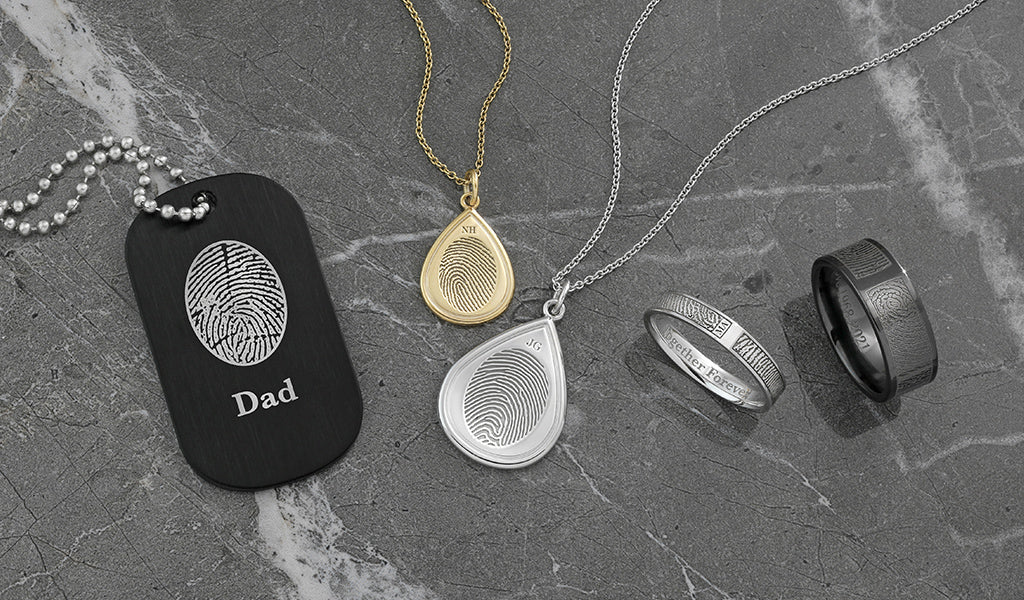 Fingerprint Jewelry is a beautiful, meaningful way to feel close to someone you love. Each time you feel the lines and grooves of their unique print engraved on your Necklace, Ring, or other one-of-a-kind piece, you'll know that they are with you.
That same connection can be felt to two people you care for at once with Dual Fingerprint Jewelry.
What is Dual Print Jewelry?
Dual Print Jewelry is a piece of Jewelry that is engraved with the fingerprints of two different people. Also known as Double Fingerprint Jewelry, this style is commonly used as a memorial that honors the life, legacy, and bond shared between two family members. Whether grandma and grandpa, mom and dad, or any combination of family and close friends, Dual Print Memorial Jewelry simply means more.
Most Dual Print Jewelry has one fingerprint engraved on the front of the Jewelry, and the other engraved on the back. At Legacy Touch, we also engrave the Loved One's initials next to their fingerprint so that they are easily distinguishable.
Family Testimonials
Recently, families have shared with us how their Double Fingerprint Jewelry has helped them experience the peace of holding two Loved Ones near:
Dual Fingerprint Rings
"The Ring is beautiful and provides great comfort with my parents' fingerprints as a reminder of their legacy together ."
Dual Fingerprint Charms
"I had ordered a Charm when my mom passed away in 2016. When my grandmother passed in 2021, I had intended to order one with her print when I came across the Dual Print option. This is perfect…the 3 of us were so close and I can have both of them on one Charm. It's a beautiful Charm and a nice way to remember your Loved Ones are always with you."
Dual Fingerprint Pendants
"Beautiful piece of sentiment. My daughter loved it and can now carry her dad and aunt with her daily."
Dual Fingerprint Dog Tags
"I lost my mom in February 2019 and had Legacy Touch make a Bookmark with her thumbprint which I love. My dad passed away unexpectedly in October 2019. He was a Vietnam Veteran and I decided to get this Dual Dog Tag so that I could have both my parents close to my heart. It's everything I expected. I love it."
If you have lost people you love, please know that you have our sincerest sympathy. We hope that you are able to continue to feel close to them each and every day, and that their presence can bring you healing on your journey.