How is Fingerprint Jewelry Made?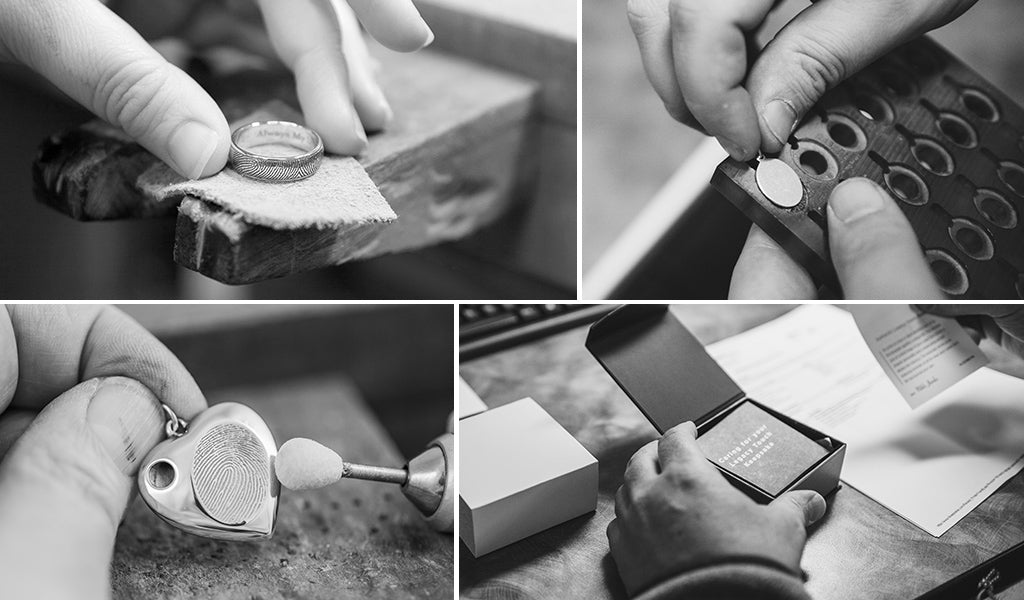 Fingerprint Jewelry is a beautiful way to keep a Loved One tangibly close to you. Whether given as a gift to someone you care about or worn to honor the life of a beloved family member, Jewelry engraved with a fingerprint is as unique as the person it represents.
Every piece of custom Jewelry we create starts with a fingerprint. From there, our team works hard to make sure your piece is as one-of-a-kind as your Loved One.
Here's an in-depth look at how we turn each meaningful fingerprint into Jewelry:
Fingerprint Collection
To begin, you'll need to capture a digital image of the fingerprint you would like on your Jewelry. If you don't already have one, getting a clear fingerprint can be easily done by using ink and paper to stamp the finger, then taking a picture using a smartphone. We recommend using our free Fingerprint Ink Kit to stamp at least a few fingerprints near one another and then snapping a picture of all of them in the same image so that our artists can choose the best one for your Jewelry. If you would like Jewelry made using the fingerprint of someone who has passed, the funeral home may have taken prints for you and your family.
Once you have the digital image of the fingerprints, you can upload it directly to our site when making a purchase or at LegacyTouch.com/Upload. When you do, a Personal Identification Number (PIN) will be generated that is unique to that set of fingerprints. Again, if you are wanting Memorial Jewelry, the funeral home may have already generated a PIN for you. Reach out to them to see if they did.
Jewelry Personalization
Once you have the PIN, you can begin personalizing your Jewelry. Browse Pendants, Rings, Dog Tags, and more to find a style you love, and then insert your PIN at the top of that product's page to ensure your Loved One's fingerprints are engraved on your piece.
Using our Keepsake Customizer, you can then make the Jewelry completely your own. Most products have an optional inscription, as well as different Chains, Charms, and other accessories to choose from.
As you finalize your order, you can also select the Production speed you would like. Many pieces of Jewelry can be delivered in as little as 24 hours with Express Production, while our Standard Production is still the fastest in the industry.
Custom Design
As soon as your order is placed, our professional artists get to work. They will use the prints provided in your PIN to select and enhance the best one for your Jewelry. The lines and grooves that make the print unique are left intact to ensure a truly one-of-a-kind piece that tells your Loved One's story.
Jewelry Creation
When the fingerprint is ready, it is engraved on your Jewelry of choice by our expert technicians and jewelers. Each piece is treated as our most important because we know how much it means to you. We polish your Jewelry before setting it in thoughtful packaging, ensuring that it is as beautiful as the love it represents.
You can learn more about our process of creating handmade Fingerprint Jewelry, as well as read interesting facts about fingerprints, by visiting our How it Works page.
On behalf of the entire Legacy Touch team, thank you for trusting us to make Fingerprint Jewelry and Keepsakes for you and your family. We hope that these heirlooms bring you unmatched connection and comfort.