How Our Fingerprint Memory Charm Brings Families Closer Together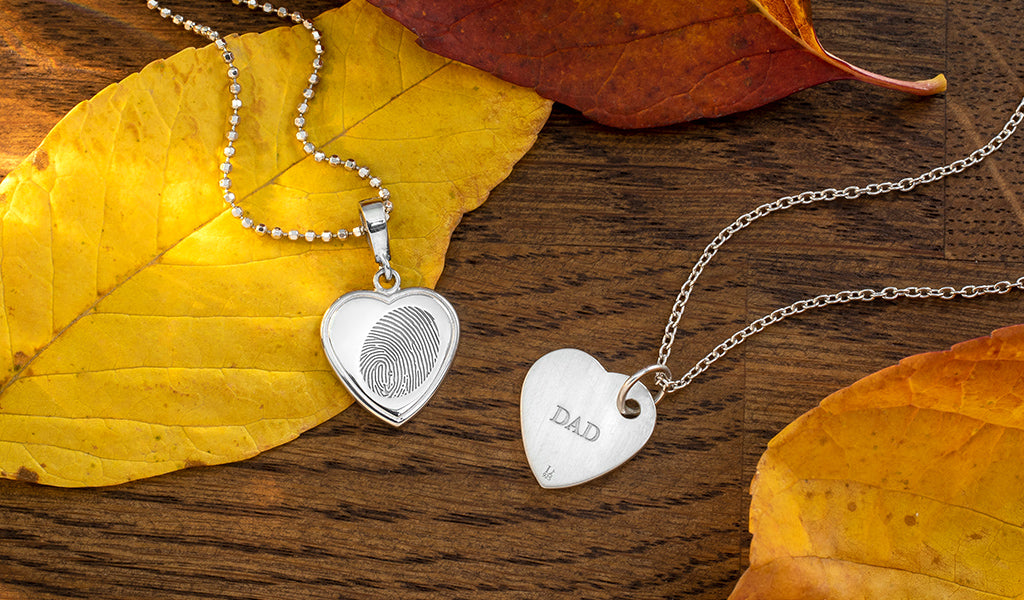 Imagine being able to feel your Loved One with you, even after they are gone. That precious connection can be experienced with our personalized Fingerprint Charm. Families can run their fingers along the lines and grooves of their Loved One's print engraved on the Jewelry, feeling their memory and tangible presence.
Stories of Connection
Recently, families have shared with us how they have felt close to their deceased Loved One thanks to their Sterling Silver Heart Charm.
"This was a gift for my sister. Our 98-year-old mom passed away and I bought this for my sister's birthday. Such a nice remembrance for a Loved One."
"My dad and I were very close. Having his thumbprint near my heart makes me feel as though he is always with me! When I miss him, I touch his thumbprint and it makes me happy!"
"They are beautiful I bought for my granddaughters with their mother's fingerprint. Made me cry when I opened it, I may buy one for myself one day! Beautiful to have something of my daughter so personal."
"It feels so good to be able to carry my dad with me everywhere I go."
"I love my Necklace, I wear it every day, it keeps a part of my son with me."
"Got one for 21-year-old daughter after my mother passed. She was so excited to have granny with her daily. We love the Necklaces."
"I can't describe what an amazing gift this is/was that I got my beautiful wifey. When she opened it, our entire family could not stop crying at the beauty of it. Not the appearance (which it's beautiful) but the idea and symbolism of it."
"This is a beautiful item purchased for my oldest daughter for Christmas and I know she will love it as much as she loved her Memo (grandmother)."
"I am overwhelmed with the beauty of the total package purchased. We got the Heart Charm, Birthstone, Angel Wing, and Chain. Beautiful combination--gift for my daughter for loving memories of her Dad."
Personalize Your Own Memory Jewelry
Smaller and lighter than a Pendant, our memory Fingerprint Charms can be worn on a Charm Bracelet or Necklace. Each can also be personalized with Birthstone Charms featuring Swarovski® Crystals, Symbolic Charms, and an inscription. These added details help to further tell your Loved One's unique story.
If you have recently lost a Loved One, please accept our deepest sympathy. We hope that you are on your way to peace and can always feel close to your beloved family member.