How Our Sterling Silver Oval Pendant Provides Peace to Grieving Families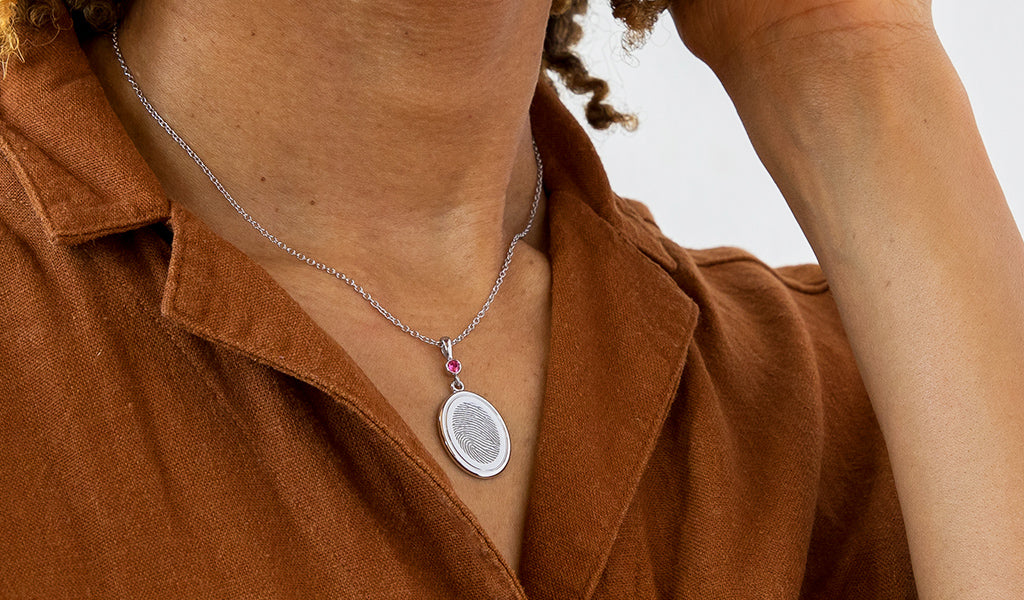 When someone we love passes away, we know that they will live on in our hearts. But there is still something comforting about holding a tangible reminder of them near that allows us to physically feel their presence and find peace in their memory.
Fingerprint Jewelry is a beautiful, custom memorial that does just that. Engraved with every line and groove of a print, our pieces help families to heal on their grief journey. Each time they touch their Loved One's print, they can feel the peace of knowing their Loved One is with them.
Recently, families have shared with us how their Sterling Silver Oval Pendant has helped them experience this precious connection.
"I love my Pendant. It makes me feel like my mom is still with me!"
"I LOVE my Pendant. It's in honor of my daddy who passed away in March. It makes me feel closer to him when I wear it. It's beautiful and even better than I expected."
"No one wants to lose a Loved One, but I want to sincerely thank you for offering/making beautiful pieces that can help us remember them."
"Absolutely love my Necklace. I am able to keep my grandmother with me forever!"
"I am so happy to have my husband's fingerprint and will wear this Necklace forever."
"We ordered 2 of these Pendants in memory of mother/grandmother. My sister and niece are extremely pleased with their Pendants. It's nice they will always have her with them close to their hearts. Thank you so very much!"
"My Necklace is beautiful and extremely well made, I've worn it every day since I've received it. Perfect meaningful Keepsake. Thank you."
"I have worn it ever since I got it. Beautiful way to keep my son close."
"Love that I can wear my mom's fingerprint every day around my neck as if she were still here with me."
"My siblings and I bought this for our mother after our father passed away unexpectedly in Dec… It is beautiful and she will always have dad with her now…Every detail of dad's thumbprint."
If you have recently lost someone special, please accept our deepest sympathies. We hope that you are on your way to healing and can experience the peace of having their spirit near.