Kershaw Knife – A Personalized Memorial Keepsake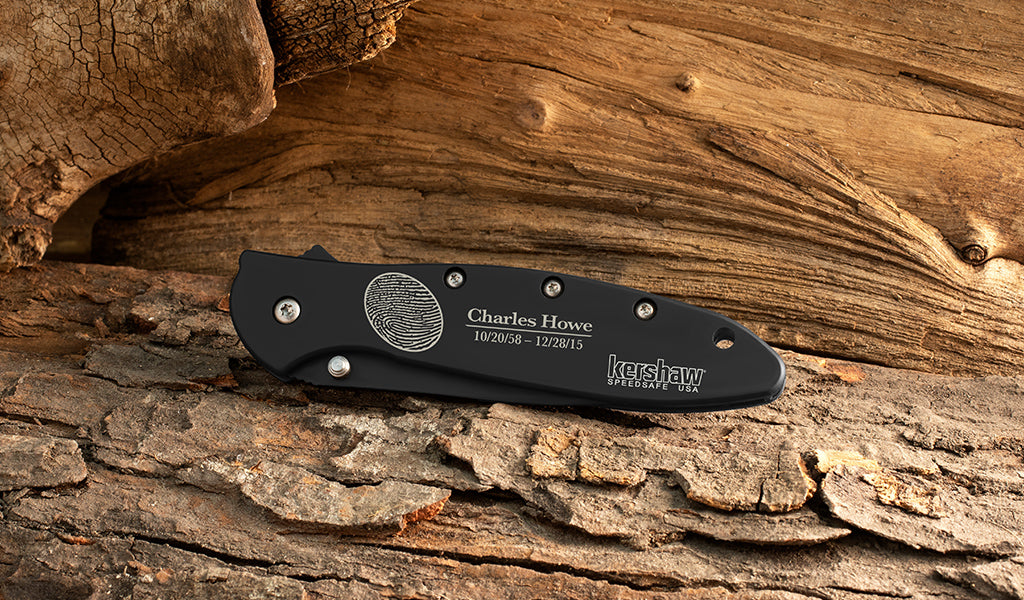 Life is all about the adventures we share with the people we love. When those people are gone, it can be hard to move forward as we grieve. Thankfully, we can still hold them physically close and find comfort with Fingerprint Keepsake memorials.
Our Fingerprint Kershaw Knife is the perfect memorial Keepsake to honor a deceased Loved One who enjoyed spending time outdoors, camping, or traveling. As you continue on with your own new adventures, you can feel their fingerprint etched on the Knife and know that they are still with you.
Recently, families have shared with us how they have felt connected to their late Loved One thanks to their own personalized Kershaw Knife.
"This was a great birthday present for my husband that just lost his dad. He loved it and the quality and picture of fingerprint was great."
"Thank you all so much for bringing a piece of my daddy back to me!!! I am truly grateful."
"Knife is very nice and well made. Hope to pass it along to my son one day."
"We bought the Pocket Knife as a gift for my father for Christmas following my mother's passing. He's extremely difficult to buy for but always carried a Pocket Knife. He was touched and always has a piece of Mom right in his pocket."
"This was a gift for our son in honor of his best friend from grade school. Our son doesn't wear jewelry and this is a perfect item he can carry with him always."
"I bought this Knife for my grandson of my mom's fingerprint for his 20th birthday which was the next week after my mom passed away. He said it was the best present he has ever received as he was very close to his grandmother."
"I bought this for my nephew with the fingerprint of his grandfather. He loves it and it's a very, very good Knife!"
"The Knives are of excellent quality but more than that my son and my good friend will always have a part of my dad with them."
"The Knife is sharp, sleek, and looks amazing with our son's footprint on it. My husband LOVES it and keeps it with him at all times."
"Recently losing our Mom, the funeral home introduced us to Legacy Touch. Not only did they get Mom's print, but to our surprise and with the help of the funeral home, they were able to get Dad's print from his Military records. We ordered the Kershaw Pocket Knife with Dad's print. Another order was for the Case Pocket Knife with both Mom and Dad's prints. Dad always carried a Pocket Knife so this was perfect."
If you have recently lost someone you love, please accept our sympathies. We hope that you are able to feel close to their spirit and find comfort in the memory of the many adventures the two of you shared.