Meaningful Jewelry and Keepsakes Personalized with a Unique Print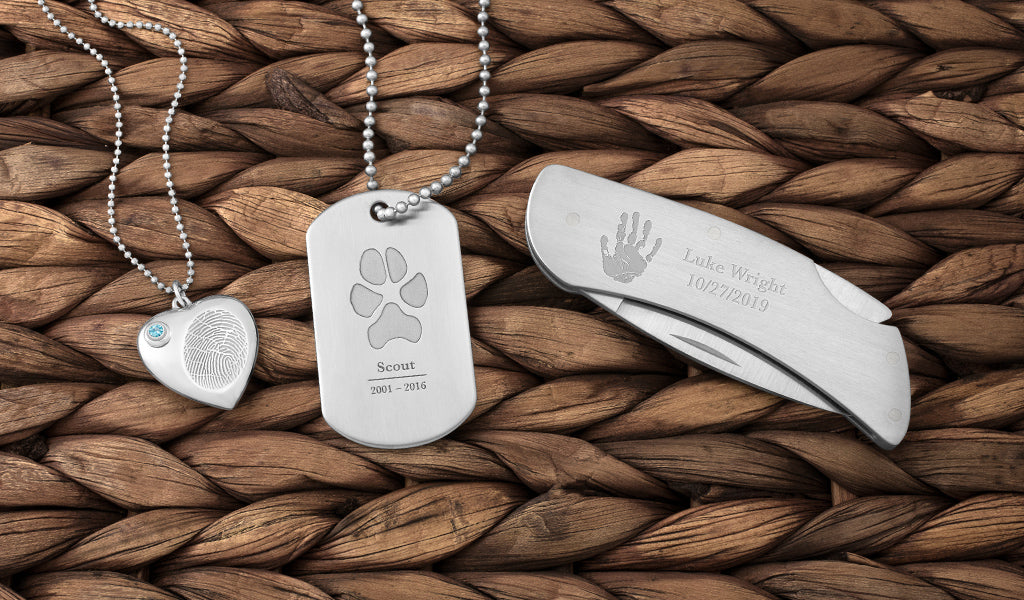 Nothing is more precious than being able to feel your Loved One with you, always. We want you to experience that tangible connection each day. That is why our personalized Jewelry and Keepsakes are engraved with the unique print of your Loved One.
Whether on a Pendant, Dog Tag, Charm Bracelet, or any other meaningful piece, you can choose the type of print you would like featured and that best represents someone you love.
FINGERPRINT
The most popular print style chosen for Jewelry and Keepsakes, fingerprints allow you to carry your Loved One's unique touch wherever you go. Your Loved One's fingerprint pattern is carefully engraved by expert artisans to showcase every distinct line and groove that makes them special. Each time you run your own finger over their print, you can feel the presence of your Loved One.



HAND OR FOOTPRINT
Great as a gift for new parents or grandparents, Jewelry and Keepsakes engraved with a baby's hand or footprint allow those who love them to always hold them near. These little prints bring unsurpassed meaning to the Jewelry and Keepsakes they are engraved on, resulting in a piece that marks the momentous occasion of welcoming a new family member - and can be treasured for years to come.



PAW PRINTS
Jewelry and Keepsakes engraved with a paw print give you the opportunity to celebrate the one-of-a-kind bond you share with your pet. Each piece is handcrafted to reflect the love of every purr and wagging tail. Have a pet other than a cat or dog? From noses to hooves and more, we can help you find a feature to engrave on your piece. Contact us to learn more.




Jewelry and Keepsakes customized with your choice of print are the perfect way to hold near someone you love. Further personalize most pieces with a custom inscription, Birthstone Charm, Symbolic Charm, and Chain to tell your Loved One's story.