Meaningful Memorial Jewelry for Men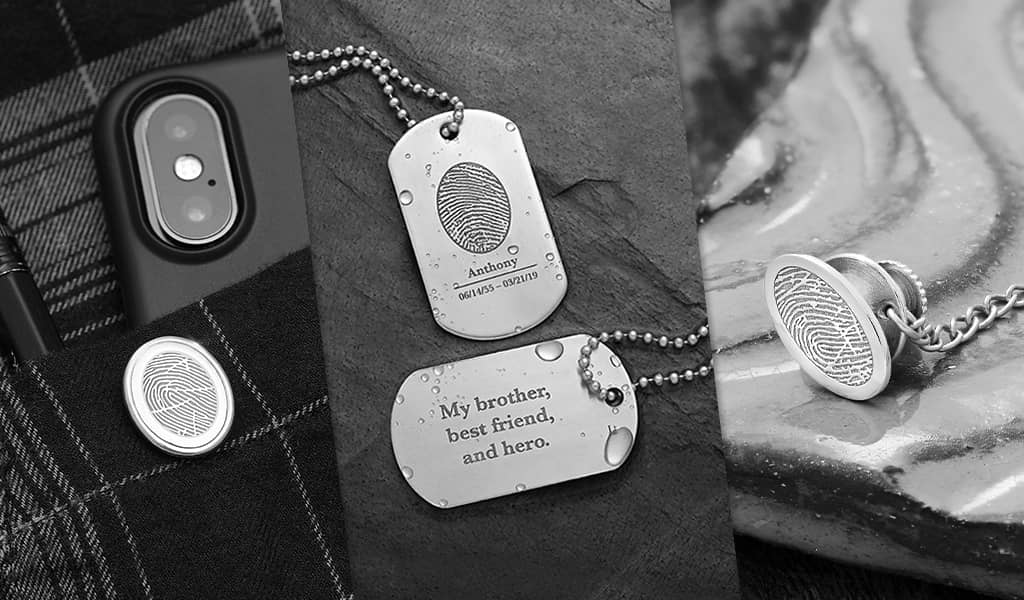 When a Loved One passes, comfort can be found through keeping their presence near. One way to do this is by customizing Jewelry that is engraved with the lines and grooves of a Loved One's fingerprint, which uniquely pays tribute to their beloved life.
Our Men's Memorial Jewelry is handmade with masculinity in mind, and can be a wonderful gift for him that provides closeness to someone he loves who has passed. As he navigates his journey to healing through grief, personalized Jewelry can offer him the peace of knowing his Loved One's spirit is forever near.
Lapel Pin
Sophisticated and elegant, our Sterling Silver Lapel Pins are a wonderful way for a man to keep someone dear to him near his heart. They are also a meaningful gift to give to pallbearers and other members of the family at funeral services to help identity those close to the lost Loved One.
Military Dog Tag
Perfect for veterans or military family members, our Fingerprint Dog Tag can be paired with an inscription that tells a Loved One's story through a bible verse, nickname, or favorite phrase. Versatile and heartfelt, each Stainless Steel Dog Tag provides a way for its wearer to feel their Loved One's presence every day.
Tie Tack
Our Sterling Silver Tie Tack helps him to stay connected with his Loved One and their memory. Handcrafted with care, the personalized Tie Tack can be worn to special events like visitations and services, or during daily activities like to the office. As he wears it, he will know that his Loved One is always with him.
We hope that our Jewelry will help men who are grieving find comfort. May they feel the engraved fingerprint, and experience the peace that comes from a tangible closeness to their Loved One.