Meaningful Wedding Memorials that Honor a Lost Loved One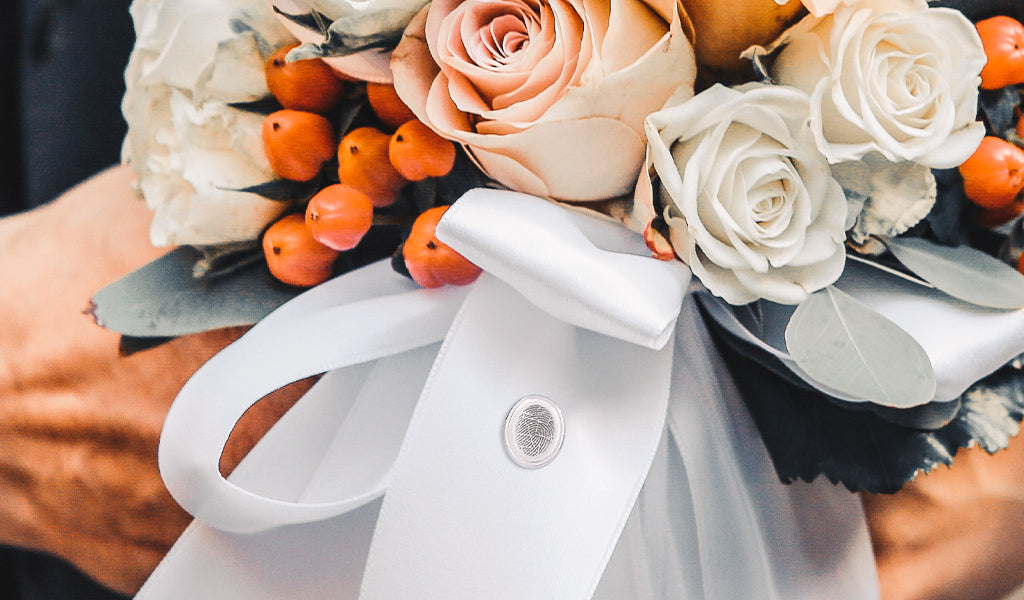 Weddings are all about celebrating love and joining two families together. If an important member of your family has passed away, you may want to consider finding a way to honor them during the big day. Having a memorial at your wedding that recognizes a deceased family member can help you feel close to them and experience the peace of them still being a part of your event.
Wedding Memorials that Offer Meaningful Connection
Fingerprint Lapel Pin on the Bride's Bouquet
Brides can carry their Loved One throughout their wedding day with a custom Lapel Pin engraved with their unique fingerprint. This can be especially meaningful for a bride who has lost her father, as it offers the opportunity for her dad to still be with her as she walks down the aisle.
Fingerprint Tie Tack for the Groom
If the groom has lost a beloved family member, he can wear their touch on a Fingerprint Tie Tack. His Loved One will be close to his heart throughout the wedding day. If the groom becomes nervous, he can feel the lines and grooves of the fingerprint and be calmed by their reassuring presence.
Fingerprint Jewelry for the Family of the Bride or Groom
The family of the couple getting married can also find comfort and meaning through memorials that honor a lost husband, wife, sibling, grandparent, or even close friend who they wish could be physically present that day. The mother of the bride could wear a Fingerprint Charm Bracelet or the father of the groom could wear a Fingerprint Dog Tag. These Jewelry memorials can be customized to represent the person they honor, as well as the people who wear them.
Framed Fingerprint Memorial on the Guest Book Table
A Framed Memorial that is engraved with a fingerprint and heartfelt inscription can be a beautiful way to pay tribute to someone special who has passed. By placing this frame on the guest book table, everyone at the wedding will be able to take a moment to reflect and feel near the lost Loved One before the ceremony begins.
If you have recently lost a Loved One, please accept our deepest sympathies. It is our hope that you will continue to feel close to them and know that their love is still with you every single day.