Memorial Jewelry – Navigating Grief and Finding Comfort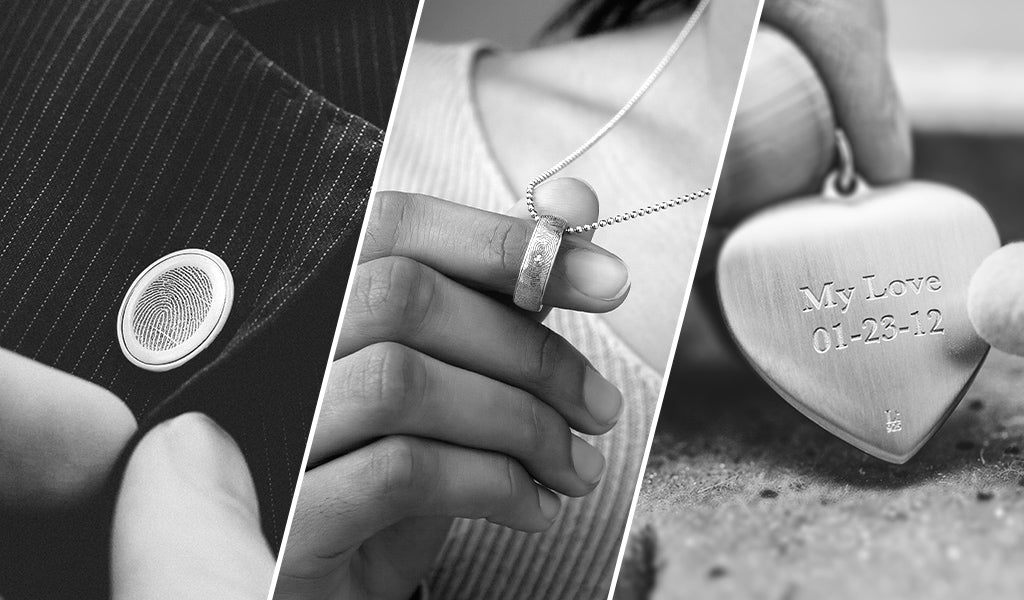 After losing a Loved One, nothing feels more special than finding and experiencing an ongoing connection to them. Feeling close to a lost family member helps us to stay rooted in their love and continue their legacy. One way to experience this connection is through custom memorial Jewelry.
In addition to being a beautiful representation of love that was shared, memorial Fingerprint Jewelry can play an important role in navigating grief after losing someone special.
Memorial Jewelry keeps a Loved One's presence near.
Jewelry that is personalized with your Loved One's fingerprint is a tangible memorial that helps you to feel their presence, always. Run your own finger over their engraved thumbprint, and know that they are close. Other Keepsakes, like Cremation Jewelry and Urn Pendants, are even able to hold a small portion of cremated remains, allowing you to hold your Loved One physically near as you grieve.
Memorial Jewelry provides comfort during difficult times.
Experiencing connection to your Loved One soon after they pass can help you to begin to navigate your grief with the comfort of knowing they are still close. We offer 24HR Turnaround on many of our memorial Keepsakes, so that you can feel the peace of your Loved One's presence during funeral services. These memorial and funeral Jewelry pieces – like Fingerprint Lapel Pins – can even be worn during the services to identify important individuals like family members in the receiving line or pallbearers.     
Memorial Jewelry helps a Loved One's story live on.
Fingerprint Jewelry is a beautiful way to help your Loved One's story live on each day as you begin healing. Paired with an engraved fingerprint, memorial Necklaces, Charm Bracelets, Pendants, or other styles can be further customized with heartfelt inscriptions, Birthstone Charms featuring Swarovski® Crystals, Symbolic Charms, and other accessories. Your Jewelry will be a meaningful reminder each day of your Loved One for you and the people you share their precious story with.
It is our sincerest hope that your personalized memorial Jewelry will bring you comfort and closeness to your Loved One now, and always. Please accept our sympathies for your loss.