Popular Metal Types for Personalized Jewelry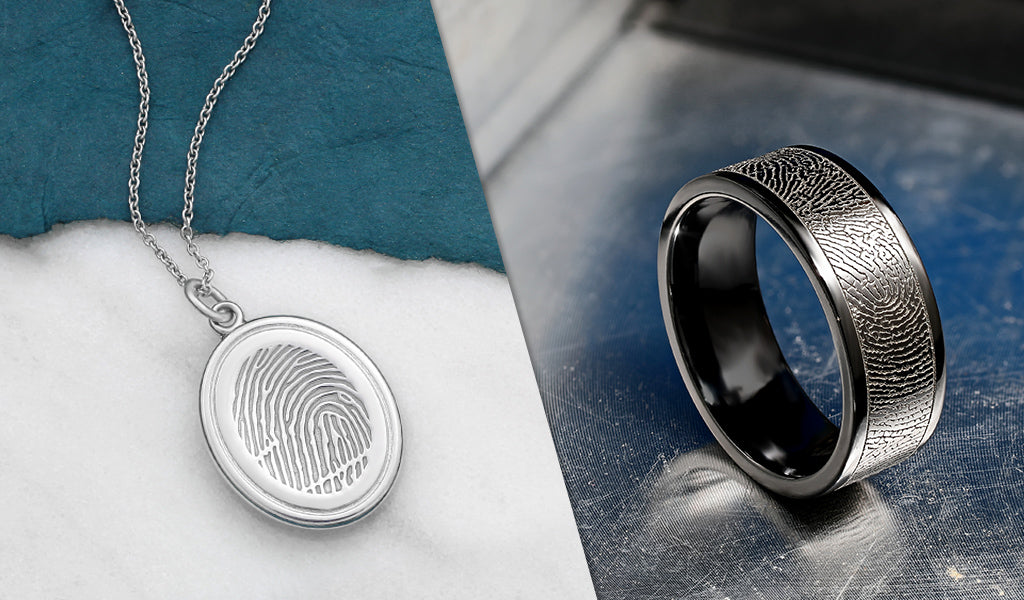 One way to customize your Fingerprint Jewelry is to choose a metal type that is meaningful to you. Personalized Jewelry is available in a wide range of metals – from 14k Gold to Stainless Steel to Sterling Silver, and more. By choosing a metal that reflects both your personal style and the Loved One the Jewelry represents, you can create a piece full of beauty and connection.
Three of the most popular Jewelry metal types available include:
Sterling Silver Jewelry
Similar in appearance to White Gold, Sterling Silver has a classic, stunning luster. Sterling Silver Jewelry is also rhodium plated, helping to ensure your piece stays beautiful and strong for longer. Many of our personalized products are available in Sterling Silver, including our Sterling Silver Oval Pendant and Sterling Silver Dog Tag Pendant.
Rose Gold Jewelry
Rose Gold has a soft pink or blush shade that gives it an elegant shine. Rose Gold Jewelry is a wonderful gift for her or can be worn to memorialize a special woman in your life. Our Rose Gold Heart Charm is especially gorgeous, and is the perfect addition on a Necklace.
Black Titanium Jewelry
A sophisticated choice, Black Titanium elevates Jewelry with its timeless dark hue. Black Titanium is also available in a Matte finish, which provides a non-reflective, subtle surface. Black Titanium Rings engraved with a unique fingerprint can be a great gift for him that is full of heartfelt meaning.
Personalized Fingerprint Jewelry can be a source of eternal connection and closeness to the people you love the most. Browse our
Jewelry
to find a style – and metal type – that tells your shared story and keeps the two of you forever near.