Thoughtful Holiday Messages for Family and Friends Who Are Grieving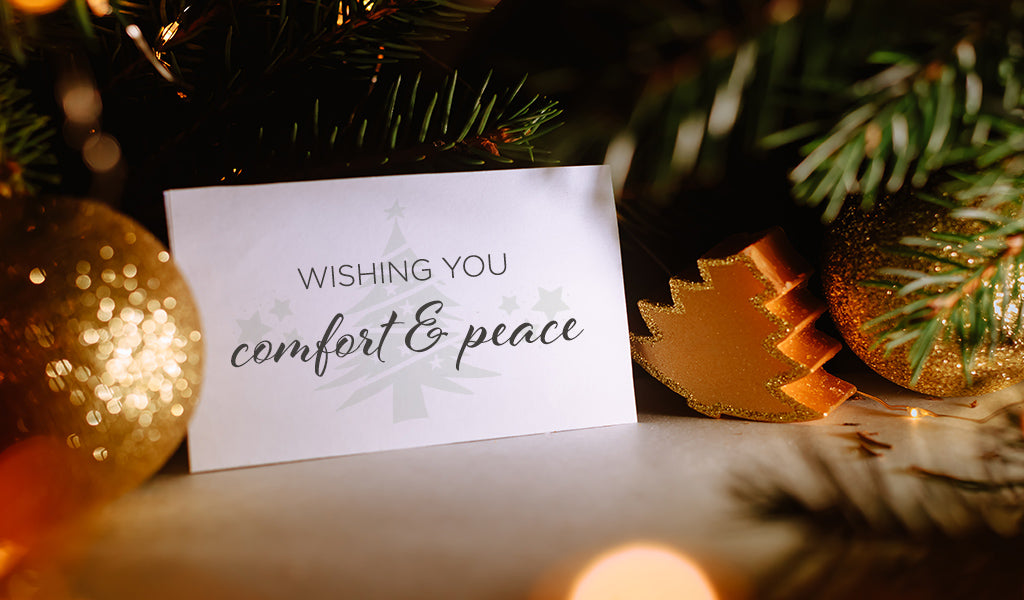 Your family and friends who are grieving may not feel like it's the most wonderful time of the year. All of the traditions and festivities can make navigating grief difficult as they face constant reminders of their Loved One no longer being a part of the celebrations. One way to offer empathy and kindness to them during this hard time is through the way you speak with them during the holidays.
"Merry Christmas" may not be the right thing to say when their season isn't so merry. Instead, you want to think about a way to give your holiday wishes that offers your sympathy and well wishes for the season in a sincere way.
While it may take some time to personalize your message to be just right, you can get started brainstorming thoughtful things to say with our list:
Holiday Messages of Hope and Sympathy
Whether in-person at a holiday gathering or written in a Christmas card, these heartfelt messages can help portray your support while comforting those who are grieving during the season.
"Wishing your family a season of comfort and peace."
"They were so lucky to have been loved by you, and to have had so many wonderful holiday seasons by your side."
"May your holidays be filled with both the happy memories of years past and the hope of better years ahead."
"I'm thinking of you. Is there anything you need?"
"Even though they are missed beyond measure, I'm thankful you have another guardian angel keeping watch over you this year."
"It is our truest wish that the holiday season will bring you and your family some much needed rest and happier times spent together."
"Sending you warm wishes for this season and always. If you need anything, know that we are always here."
"May your New Year bring abundant goodness and grace to you and your family."
Tips for Writing a Sympathetic Holiday Message
As you think about the holiday message you will give, consider these three best practices:
Keep it About Them: Even if you are grieving the same loss, it's important to keep your message centered around your family member or friend. When you do, it will help them to feel supported and to know that you truly care. One way to do this is by saying how lucky their Loved One was to have had them in life, or by asking if they need anything.
Be Respectful: Now is not the time to press for details about their lost Loved One or ask questions that could be taken the wrong way. Instead, keep your message generic. If they want to open up more, let them lead the way.
Make it Short and Sweet: In this instance, strive to keep your message simple. You may just be surprised as to how much a short "Thinking of You" will mean to the people you care about.
Thank you for being supportive of the people you love this holiday season. These small acts of kindness you give often mean the most.