Why Rings with Fingerprints Make Meaningful Memorials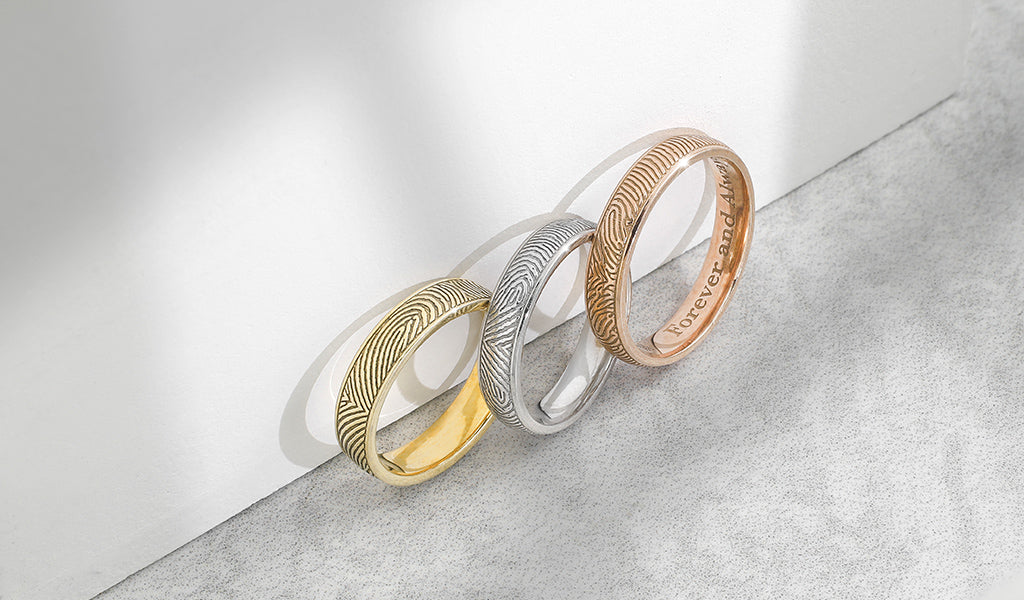 It's always hard to lose someone we love, especially when feeling close to them is no longer as easy as reaching out to hold their hand. As we grieve, we must find new ways to continue to keep them with us.
Thankfully, families can feel a tangible connection to a deceased Loved One by wearing a Ring engraved with their actual fingerprint.
Each Fingerprint Ring we handcraft is as one-of-a-kind as the person it represents. Every time a grieving family member touches the unique lines and grooves engraved on the Jewelry, they can feel the peace of knowing their Loved One is still with them. This creates a way for the wearer to continue to hold the hand of the person they miss the most.
Reviews for Rings with Fingerprints
Recently, families have shared with us how their Fingerprint Rings have helped them memorialize and feel close to a Loved One.
"Holding my daughter's hand, for life."
"It is so nice to always have my dad's fingerprint with me. I miss him every day and I can just look at my Ring and see that he is with me."
"A beautiful tribute to my mother-in-law. She used to sign greeting cards to me as 'your favorite mother-in-law.' Inscribed on the inside of my Ring… 'My favorite mother-in-law.'"
"I lost my wife a year ago…I bought the Keychain for myself and son. My grandson purchased the Dog Tags. All great. But this Ring replaces my wedding Ring [and] makes me feel my wife is with me."
"I love my Ring. Being able to feel the ridges of my son's fingerprint is comforting."
"I did not know that a Fingerprint Ring was even a thing. I am so happy I ordered it! Such a gorgeous memory I have…my dad's fingerprint! I was pleasantly surprised that engraving was included. 'I gotcha dad' was something I said to him daily. It's just perfect. I love my Ring and I wear it with pride. Thank you for giving me the chance to have him with me in this way."
Thank you for sharing your stories with us. It is our hope that you continue to feel close to the people you love and miss each day.