15 Quotes About Mom to Engrave on Memorial Jewelry & Keepsakes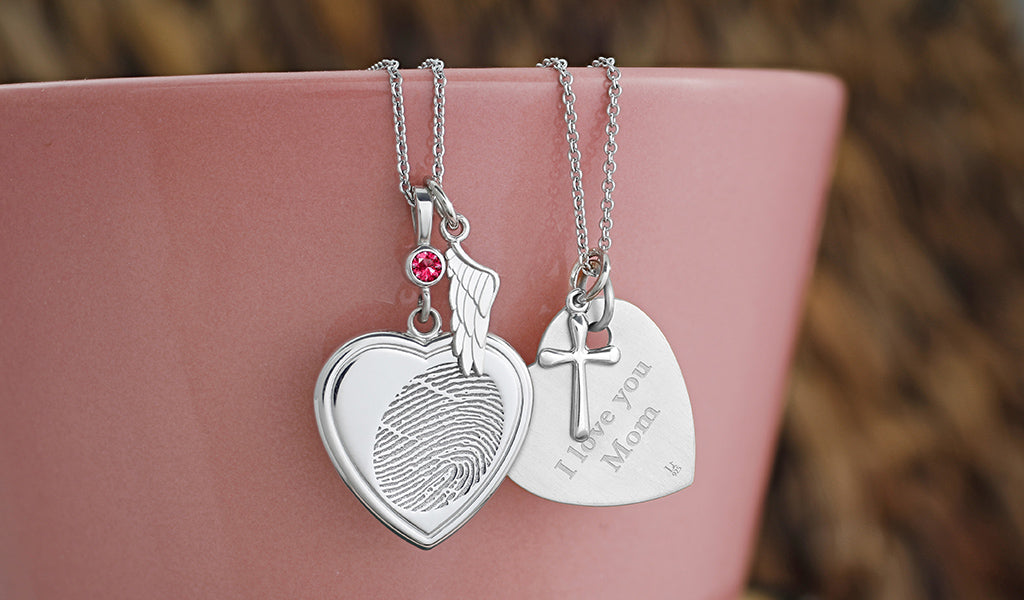 Our mothers are some of the strongest, kindest people we will know throughout our lives. They raise us, teach us, and love us in a way no one else can. When we lose them, we often lose a best friend.
One way to find comfort in your mom's memory is by personalizing Memorial Jewelry and Keepsakes that help you feel eternally close to her. Having an inscription, like a quote, engraved on your piece adds further connection that can be seen and felt each day.
How to Find a Quote for Memorial Jewelry & Keepsakes
Choosing the quote to have engraved on your memorial piece requires equal parts creativity and thoughtfulness. Only you know your Loved One enough to decide which one best represents them, however, you can find inspiration in the following places:
Look Through Your Loved One's Favorite Books for Highlighted Passages
Many people will highlight their favorite quotes in books and keep them for their entire lives. If you are able and have access, flip through your mom's old books to see if she did this. These highlighted passages are often beautiful glimpses into our Loved One's hearts and can add incredible meaning to a memorial Keepsake that honors them.
Find Inspiration in Your Loved One's Favorite Movies and Songs
Just as our Loved One's favorite books can provide heartfelt quotes, so can their favorite songs and movies. Take some time to relisten to the songs your mom sang along to in the car and rewatch that old movie that she had memorized every line of. There may be a quote said in them that reminds you of her and would be perfect as an engraving.
Browse Online for a Quote that Reminds You of Them
A simple internet search can be a great option for finding a quote to engrave on your mom's memorial. You will find an endless supply of sayings to choose from that can all be just as meaningful as one you found elsewhere.
What to Consider When Choosing a Quote to Engrave
As you're picking the perfect quote for your mom's memorial, you'll need to make sure you consider the length of the quote and if it will fit on your chosen piece. For example, larger memorial Keepsakes, like Bookmarks, will give you more room for a longer quote while smaller memorial Jewelry pieces, like Charms or Rings, will need a short quote.
At Legacy Touch, you can find the available inscription length for each piece (front and back) on the individual product pages.
If you find a quote that you love but won't fit on your chosen memorial, there are a couple of things you can do. You can try to use only part of the quote to make it shorter or break up the lines so that it fits better on the item. You can also use the quote as inspiration for writing your own original inscription. While it may be harder, writing an inscription can add a personal touch to your memorial that means even more.
Examples of Engravable Quotes About Mothers
Our moms mean so much to so many of us. That's why there are many heartfelt quotes that you can choose from for your memorial. Find inspiration with our list of 15 memorial engraving ideas:
"Mothers are like glue. Even when you can't see them, they're still holding the family together." -- Susan Gale
"A mother's hug lasts long after she lets go." -- Unknown
"All that I am, or ever hope to be, I owe to my angel mother." -- Abraham Lincoln
"We are born of love; love is our mother." -- Rumi
"God could not be everywhere, and therefore he made mothers." -- Rudyard Kipling
"Everything I am, you helped me to be." -- Unknown
"You are far more precious than jewels." -- Proverbs
"To the world, you are a mother, but to your family, you are the world." -- Unknown
"As is the mother, so is her daughter." -- Ezekiel 16:4
"A mother and daughter's love is never separated." -- Viola Shipman
"If I had a single flower for every time I think of you, I could walk forever in my garden." -- Claudia Ghandi
"A mother's love endures through all." -- Washington Irving
"There are no goodbyes, wherever you are, you will always be in my heart." -- Mahatma Gandhi
"If I know what love is, it's because of you." -- Hermann Hesse
"Home is where your mom is." -- Unknown
Find even more inscription inspiration by visiting our expanded collection of engravable popular quotes and phrases.