A Guide to Thoughtful Gift Ideas for Someone Who Has Lost a Parent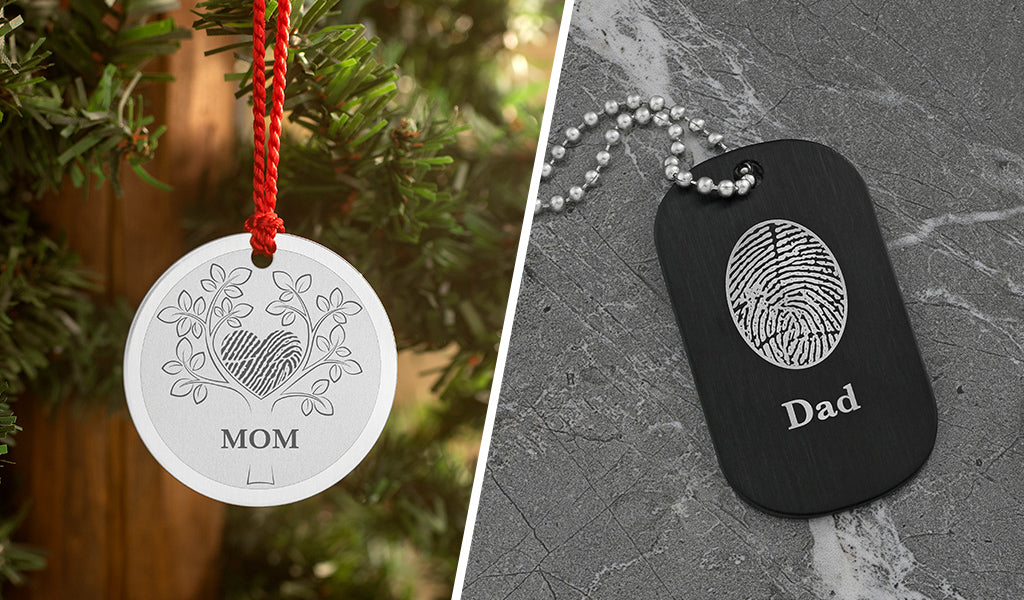 When someone we know loses a parent, it's important for us to let them know that we are there for them in their time of grief. One way to show our sympathy and support is through thoughtful gifts.
Gifts can help comfort people who are grieving—whether during the holidays, on the anniversary of a death, or simply in the days immediately following the loss.
Gift Ideas for People Experiencing the Loss of Their Parent
The most meaningful, thoughtful gifts for people who are mourning are those that are personalized to represent their late Loved One. One way to do this is by customizing a piece of Jewelry or a Keepsake to be engraved with their Loved One's unique fingerprint.
Fingerprint memorials are not only beautiful, but they also allow the recipient to hold their Loved One physically close once again. There's nothing more precious than the comfort that can be found through touching the unique lines and grooves of a beloved fingerprint.
Some of the most popular and heartfelt styles of Fingerprint Jewelry and Keepsake gifts include:
Fingerprint Necklaces
A great gift for her, our Fingerprint Necklaces help the recipient to keep their parent forever near their heart. Choose from fully customizable Pendants, Charms, Lockets, Lariats, and more for a gift that is as beautiful as it is special.
Keepsake Teddy Bears
When the hug of a parent is missed most of all, a Keepsake Teddy Bear can help recipients to feel that closeness again. Both Theo and Tate wear a Charm engraved with the fingerprint of a Loved One and offer precious comfort.
Personalized Bookmarks
Every life is a unique story. A Fingerprint Bookmark can help remember and honor the story of a parent who has passed away, and makes a one-of-a-kind gift for those who are mourning. Along with the engraved fingerprint, there is room for a lengthy inscription of a favorite quote or passage.
Keepsake Christmas Ornaments
Perfect for the holidays, or year round, a Keepsake Christmas Ornament engraved with the fingerprint of a late parent will help the recipient to feel their spirit throughout their home. Each Brass or Nickel Ornament can be further customized with a variety of design and tassel options.
Dual Fingerprint Jewelry & Keepsakes
If the person you're buying for has lost two parents, you can help them hold both mom and dad near with Jewelry and Keepsakes engraved with two fingerprints. From Pendants to Knives to Keychains and more, recipients will know that their parents remain with them, always.
How to Present a Gift to Someone Who is Grieving
When you give such a personal, thoughtful gift to someone who is grieving, it may inspire new emotions to arise that they either haven't felt in a while, aren't used to, or didn't realize they were holding inside. That's why it's important that you put just as much care into how you present the gift as you do the gift itself.
Out of respect for the recipient, you may want to consider giving them their gift privately. This way, they won't feel like they are put on the spot with any emotions that may arise that they are not comfortable sharing in a group setting. You also will want to plan to stay with your friend in case they would like to have someone to talk to about the emotions your sympathetic gift prompts. If they do want to share any stories of their Loved One, the grief they are facing, or simply their appreciation, be there for them by listening and showing your continued support.
Thank you for being there for the people in your life who are experiencing grief. Losing a parent is never easy, but your kindness can help make their journey to peace and healing a bit brighter.