Fingerprint Christmas Ornaments that Provide Peace During the Holidays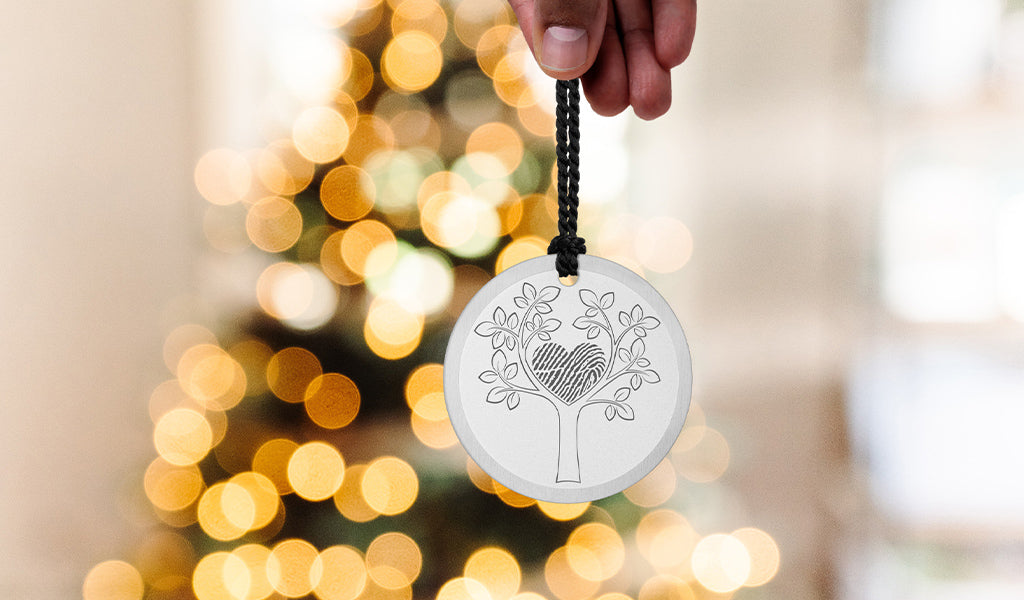 There's nothing more special than spending time with family during the holiday season. Even after a Loved One leaves us, we can continue to feel that closeness through memories and memorials that keep their presence near.
Keepsake Christmas Ornaments that are engraved with a late Loved One's fingerprint are a beautiful way to remember someone you love throughout the holidays. As you feel the lines and grooves of their fingerprint, you will know that their spirit continues to be with you during this special time of year, offering tangible comfort and peace.
Family Testimonials
Recently, families have shared with us how their Fingerprint Christmas Ornament has helped them feel connected to their Loved Ones:
"Absolutely gorgeous and very much loved by my husband's brothers and children…The workmanship and the personalization is priceless. This is my second time ordering, and there may be a third."
"It added something really special to our Christmas tree. Even though my daughter passed away in July, a part of her was still adorning our tree."
"As a thanatologist and death educator, I am always mindful of the importance of physical objects that can assist students and clients in memorializing their Loved Ones and assisting them with their grief. I purchased the holiday Ornaments for my mother and aunts for the first Christmas following the death of my grandmother, and they were beautiful. More importantly, they were incredibly meaningful, to them and to me, and will serve to help keep my grandmother with us in future holiday seasons. Thank you, Legacy Touch!"
"With this being the first Christmas without my dad, it's nice that he will still be with us in some way."
"It just means so much to me to be able to have a small but beautiful piece of my father to keep near me at all times."
"So glad to have this Ornament on my tree honoring my mother."
Year-Round Comfort and Peace
Along with being a meaningful holiday decoration, our personalized Ornament can be displayed year-round for continued connection to the people you love. Choose from Brass or Nickel styles and custom designs to create your own Keepsake Ornament that brings peace to you and your family whenever you need it the most.
This holiday season, and always, may you feel comforted by the presence of all of your Loved Ones.