Inspiration for Personalizing a Christmas Memorial Ornament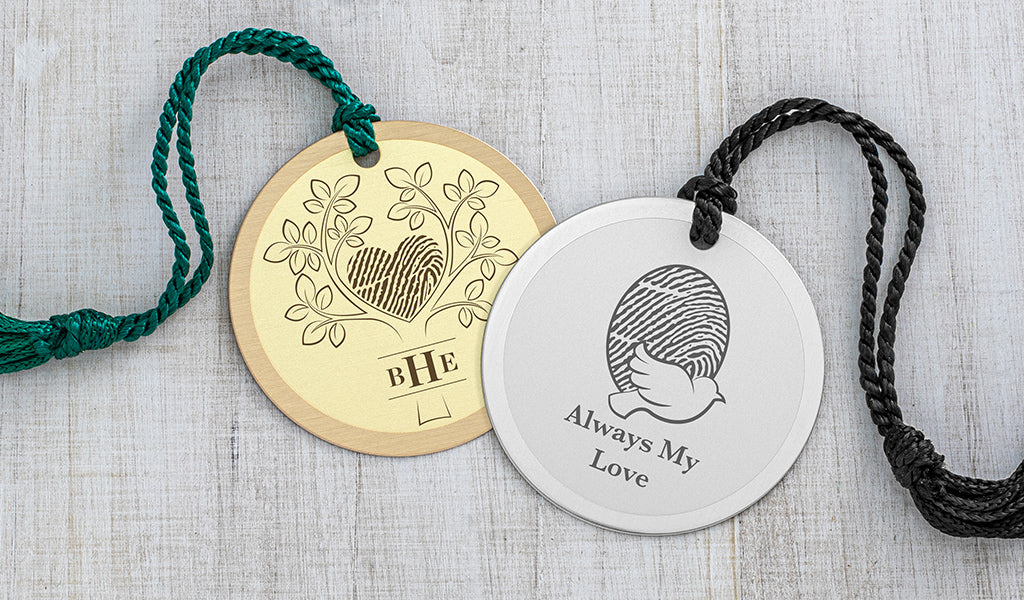 Each year, families who celebrate Christmas gather around their tree to decorate.

Someone strings the lights.
Someone finds the star for the top.
Everyone chooses their favorite Ornaments to hang in the perfect place.
Christmas Ornaments mean a lot of different things to a lot of different people, but one thing we all have in common is that the Ornaments on our family Christmas tree help to tell the story of who we are while connecting us with the people we love.
The Meaning Behind Personalized Christmas Ornaments
When you personalize a Christmas Ornament for your tree, you add even more meaning to the Keepsake. Customized Christmas Ornaments—like those engraved with a Loved One's name, birthdate, or even fingerprint—provide a one-of-a-kind connection to the people we care for the most. A connection that can be felt during the holidays and for months after.
In fact, many families will choose to personalize a Memorial Ornament that honors the life of a Loved One who has passed away, allowing them to feel the comfort of their Loved One's presence with them during this special time of year.
How to Personalize a Christmas Memorial Ornament
There are a number of different ways you can personalize a memorial Ornament for your family Christmas tree. At Legacy Touch, here is how you can create your own holiday Keepsake:
Choose Your Style
Legacy Touch's personalized Christmas Ornaments are available in two different styles. Our Brass Ornament is the perfect complement to traditional Christmas décor, while our Nickel Ornament is a beautiful option for a more modern look. To get started personalizing yours, simply choose your favorite.
Choose Your Engraving
No two Christmas Ornaments are alike because we engrave each with your Loved One's unique fingerprint pattern. You can also choose from our collection of designs—like classic Oval, festive Holly, and more—to create a look that is the most meaningful to you.
Additional Print Engraving Options
Our team of artists and technicians also have the ability to engrave your Christmas Ornament with an infant's handprint or footprint, or even a pet's paw print.
Choose Your Inscription
Along with a print, you can have your Loved One's name, a favorite phrase, or special dates engraved on the front of the Christmas Ornament. Your choice of inscription helps add more meaning to your Keepsake while honoring your late family member.
Choose Your Finishing Touches
No Ornament is complete without a way to hang it on your tree. At Legacy Touch, you can even personalize the tassel for your Keepsake. Choose from black, brown, green, red, or white options for your Ornament.
The Gift of Connection
The holiday season is all about connecting with family and friends. This Christmas, may you feel close to the people you love the most, whether they're with you in person or in spirit.