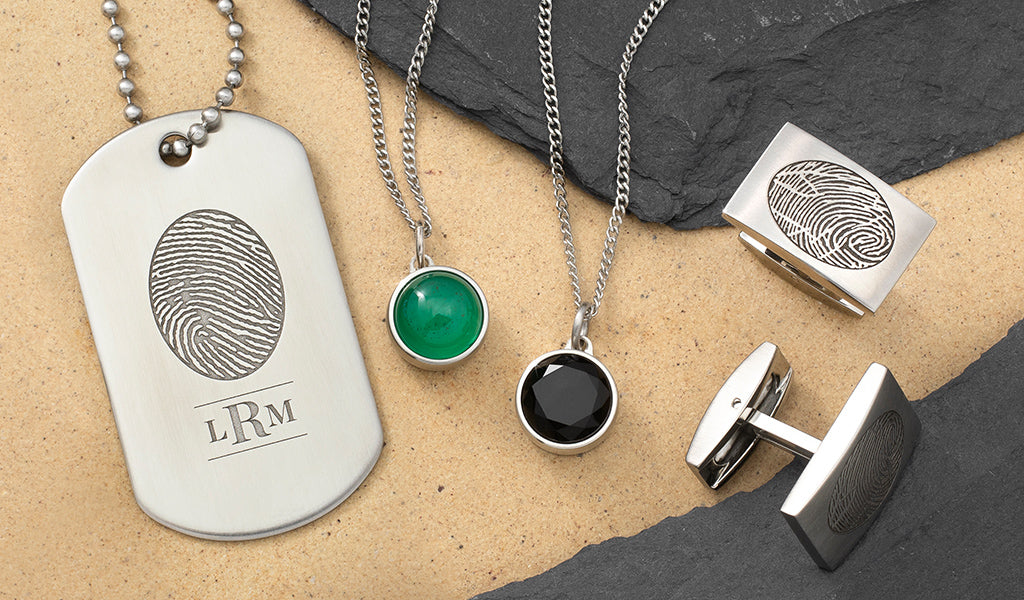 One way that people choose to honor and remember someone they love who has died is through Memorial Jewelry. As beautiful as it is meaningful, these pieces come in a range of styles, including Memorial Jewelry that is specifically made for men.
What is Memorial Jewelry for Men?
Memorial Jewelry for men is a type of accessory that pays tribute to a late family member or friend. Typically, these memorials are personalized to reflect something unique about the Loved One who has died. This can be through the specific style chosen or even through custom additions—like an engraved fingerprint on the Jewelry.
Men's Memorial Jewelry is special because it provides a tangible connection to someone who has died while offering comfort in the days following loss and for years after. Memorial Jewelry can be worn daily or on special occasions like at weddings or funerals as a reminder of a deceased Loved One's presence. Each time the wearer sees it, they are reminded that their Loved One continues to live on through them.
Simply put, these pieces are more than just Jewelry—they're a reminder of shared love.
Types of Men's Memorial Jewelry
There are a number of different types of Memorial Jewelry that are perfect for those who prefer a more masculine style. At Legacy Touch, we offer:
Rings
Available in Yellow Gold, White Gold, Rose Gold, Black Titanium, Stainless Steel, and Sterling Silver, our Memorial Rings are a touching tribute to a late Loved One. Engraved with their unique fingerprint on the outside of the band and a custom inscription on the inside, our Rings help you keep your Loved One forever within reach.
Personalize a Fingerprint Ring
Dog Tags
Whether personalized to honor a veteran, given as a gift to a military member, or simply worn with a Loved One in mind, our Fingerprint Dog Tags are a heartfelt memorial. Choose from Stainless Steel or Black Aluminum styles and add even further meaning with custom engraving.
Lapel Pins
Expressly created for funerals, memorials, and visitations, our Sterling Silver Lapel Pins offer a simple, beautiful way to identify members of the family, pallbearers, and others deserving of an honored place in paying tribute to a late Loved One.
Cremation Necklaces
Our Cremation Jewelry holds a small portion of cremated remains so that you can carry your Loved One with you forever. Choose from Heart or Gemstone Urn Pendants for a style that is most meaningful to you.
Personalize a Cremation Necklace
Cufflinks
Made from Jewelry-grade Stainless Steel, our Cufflinks help you to wear your heart on your sleeve. Each set is engraved with a Loved One's fingerprint and can be another wonderful option for pallbearers and other family members who hold a place of honor at memorial services.
Tie Tacks
Our Sterling Silver Tie Tack is a sophisticated complement to men's formalwear. Engraved with a Loved One's unique fingerprint pattern, it makes a great accessory for any special occasion.
Ways to Personalize Men's Memorial Jewelry
Memorial Jewelry becomes even more meaningful when it represents the unique life of the person it is honoring. At Legacy Touch, the most-popular personalization options for Men's Jewelry include:
Custom Fingerprint Engraving
Just as no two people are the same, no two fingerprints are alike. That's why our team of artists and technicians focus on handcrafting Jewelry engraved with your Loved One's one-of-a-kind print.
Handprints, footprints, or paw prints are other great options that can be engraved on most pieces.
Unique Inscriptions
Along with your print of choice, most Jewelry can be engraved with a unique inscription. Many people will choose to have the name of their Loved One written on the piece, along with the deceased's date of birth and death. Others will opt for a simple, elegant monogram. Larger Jewelry pieces, like Dog Tags, can also be engraved with a longer quote or phrase that is meaningful to you.
If you're looking for inspiration for what to have written on your personalized Jewelry, check out our collection of inscription examples.
Men's Memorial Jewelry Handcrafted in Kansas City
Whether you're looking for Men's Memorial Jewelry for yourself or hope to give it as a gift to someone else, we hope that you can find the perfect piece here at Legacy Touch. Each of our memorials are handcrafted in Kansas City, MO by a team of local artists and technicians who truly care about creating beautiful, meaningful heirlooms for families.
Have any question? Please contact us.