Personalized Paw Print Jewelry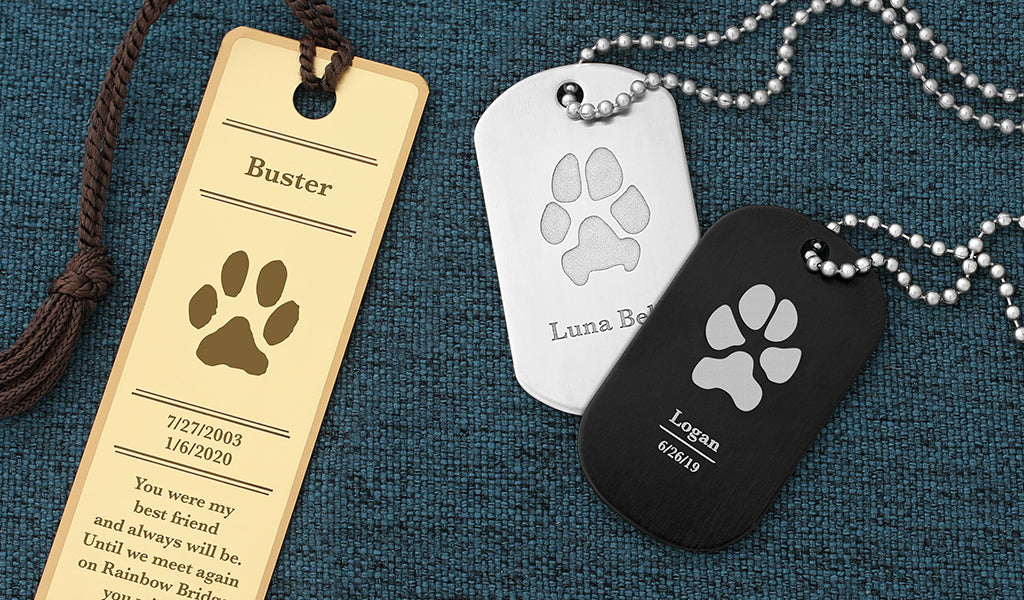 Your pet is an important member of the family. From purrs that start as soon as your alarm clock chimes to tails that wag the moment you step foot in the door, your pets and you share an undeniable bond. Stay connected with them wherever you go with personalized Paw Print Jewelry and Keepsakes.
Featuring the unique print of your furry friend, Paw Print Keepsakes and Jewelry can be customized to show off what makes your connection so special.
Choose a Style
Most of our Keepsakes and Jewelry can be engraved with your pet's paw print. Choose from Pendants, Dog Tags, and more to find a piece that is meaningful to you. If your cat has a nametag in the shape of a heart on her collar, consider a 14k Yellow Gold Heart Charm for yourself. If your dog is your favorite reading buddy, consider a Bookmark engraved with his print.
Upload the Paw Print
After you have chosen a Keepsake or piece of Jewelry, upload a digital image of your pet's inked paw print to the product page. Once you do, you'll be given a Personal Identification Number (PIN), that will always be available for ordering products featuring his or her paw print. If you don't have inked paw prints of your pet, your veterinarian should be able to help.
Please Note: If you opt to capture paw print images yourself, please use a pet-friendly ink pad.
Personalize Your Keepsake
Further customize your engraved Keepsake or piece of Jewelry with an inscription. This can be your pet's name, "Gotcha Day" date, or any other meaningful phrase. Many Keepsakes and Jewelry pieces can also be personalized with a Chain or Symbolic and Birthstone Charms. These finishing touches allow you to tell your pet's story in a beautiful way.
Do you have a pet other than a dog or cat? Our artists can help create a Keepsake or piece of Jewelry showing off another one of your pet's distinct features – from nose prints to hoof prints, and more. Contact us today to get started.