Remember Your Dog with Paw Print Jewelry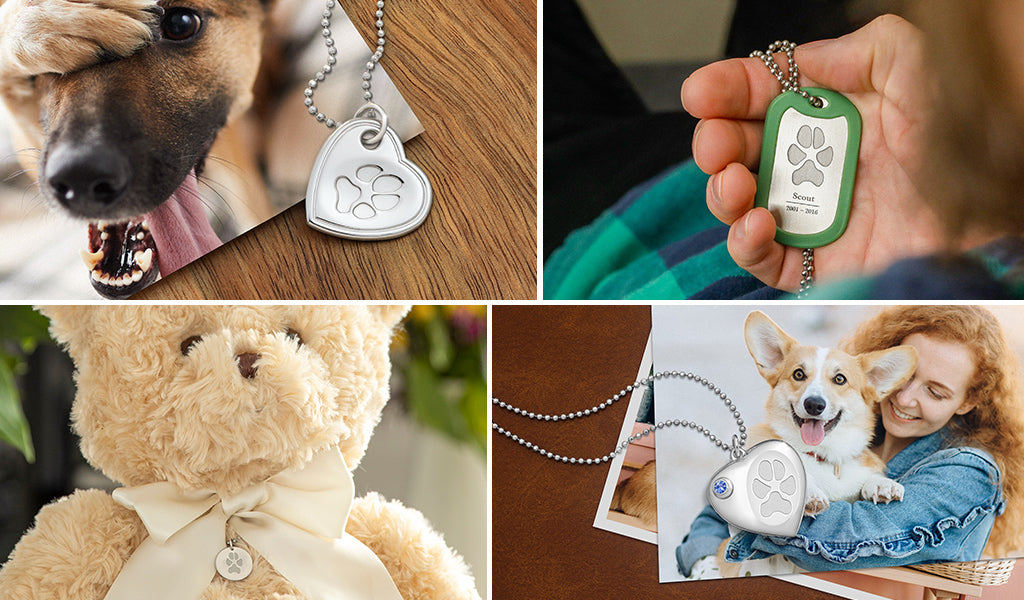 There's a reason dogs are known as our best friends. From the tail wags that start the moment we wake up to the excited barks that echo through our homes each time we grab the leash for a walk, our dogs give us friendship and joy every day. These strong bonds we form with our pets are what make their passing so difficult. Thankfully, we can continue to feel close to our dogs with Paw Print Jewelry.
Grieving the Loss of a Pet
Saying goodbye to a dog is never easy. A pet dying triggers a certain kind of grief that stays with us, even as we move forward. You spend countless hours with your dog each day, and after they're gone, it can feel like there is a hole in your life where they used to be.
Even though you can no longer hold your buddy close, you can still find comfort in their memory and the time you shared. One way to do this is through Jewelry engraved with their paw print. Handmade to feature the unique shape of your dog's paw, this custom memorial gives you a tangible way to feel their spirit and carry them with you.
Jewelry to Remember Your Dog
The Paw Print Jewelry you choose to remember your dog should tell the story of the friendship you shared, while reflecting your own personal style. At Legacy Touch, we offer engravable Paw Print Jewelry options for everyone so that you can memorialize your dog in a heartfelt way.
Pendants
Our Pendants come in a variety of different shapes including Oval, Vertical Bar, Tear Drop, and more. Each style is also available in your choice of Sterling Silver or 10k or 14k Gold. The shape and metal type of the Pendant you choose can be a meaningful way to symbolize your dog. For example, if your dog wore a collar with a heart name tag, a Yellow Gold Heart Pendant would be a beautiful way to embrace their memory.
Dog Tag Necklaces
Featuring your buddy's paw print alongside an inscription, our Dog Tag Necklaces honor your dog. Each comes with a Rubber Silencer and has room for a longer optional inscription on the back. Pick from Stainless Steel or Ultralight Aluminum styles for a Dog Tag that is as one-of-a-kind as your pup.
Urns for Ashes
Many people find that keeping their dog's ashes near helps them to feel close to them. Cremation Urn Pendants that hold a small portion of cremated remains are a deeply meaningful way to remember and stay near your friend. The Birthstone Closure can be personalized by you to signify a birthdate, gotcha day, or simply a favorite color.
Keepsake Teddy Bears with Stainless Steel Charm
A great gift for kids who have lost a pet, our Keepsake Teddy Bears wear a Stainless Steel Charm that is engraved with your dog's paw print. The Bears provide unmatched comfort to those who hold them, serving as a reminder that your pet's love continues to live on in your family.
How to Get Your Dog's Paw Print
If you don't already have an image of your dog's paw print, there are still ways to get it even after they are gone.
Vet: Many veterinarians take inked paw prints of your dog and can provide them to you.
Photo: Look through your camera roll for a photo of the pad of your pet's paw. At Legacy Touch, our artists can use that photo to help create an outline of their print for your Jewelry.
If your dog has not yet passed, you can also get an image of their print using one of the methods below.
Pet Safe Ink: Work with your dog and a pet safe ink pad to take their print. Be sure to follow all instructions provided with the ink carefully.
Clay Imprint: Clay paw print kits can be found at many craft stores and are perfect for capturing an outline of your pet's paw. Our artists can use a picture of that final imprint to create your Keepsake. Please follow the instructions provided with this kit, as well.
Our best buddies stay with us long after we say that final goodbye. If you have recently lost a dog or other pet, please accept our deepest sympathies. We hope that you can find comfort by holding their memory close to your heart with Paw Print Jewelry.