Remembering Our Best Buddies: A Guide to Pet Ash Necklaces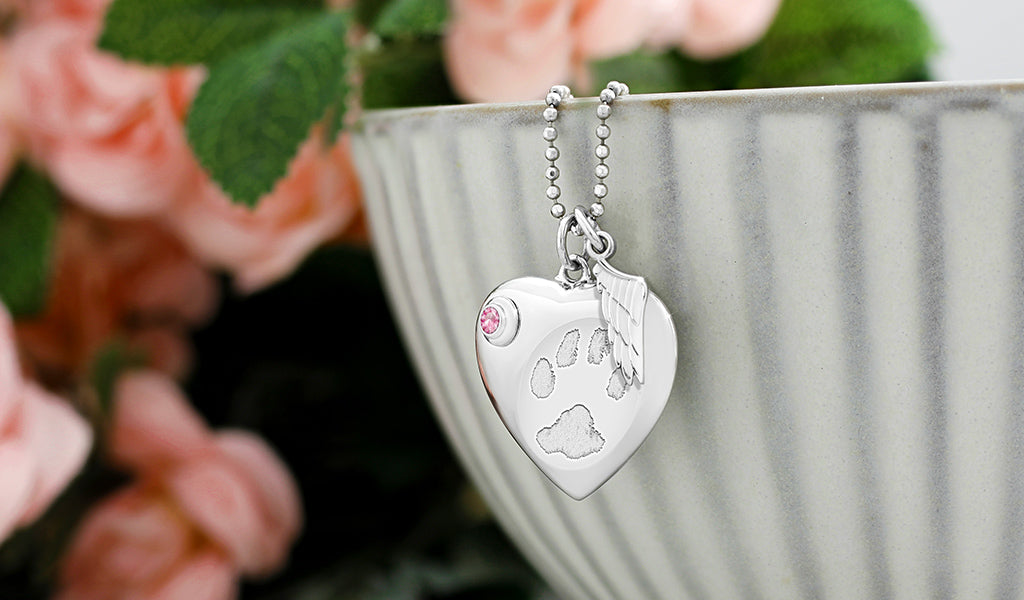 Our pets are our best friends. When they pass away, we miss them terribly. We miss the tail wags that used to greet us and the purrs that brought us joy. But most of all, we miss holding them close.
Luckily, we can remember our buddies and continue to keep them near with memorial Paw Print Jewelry that holds their ashes. One of the most popular styles is an Ash Necklace.
What is a Pet Ash Necklace?
A Pet Ash Necklace is a piece of memorial Jewelry that holds a small portion of your animal's cremated remains. It acts as an urn for pets that can be worn daily, helping you to keep them physically close.
Most Cremation Necklaces hold your pet's ashes in a small decorative Pendant that you can wear next to your heart on a Chain. The Urn Pendants are easy to fill and securely hold the remains, creating a beautiful tribute to your cat, dog, or other beloved pet.
How to Personalize Your Pet's Memorial
Your pet was one-of-a-kind, so they deserve a memorial that is just as special. You can personalize your Necklace for your pet's ashes in the following ways:
Engraved Paw Print: Your pet's paw print was as unique as a human's fingerprint. Many Ash Necklaces can be engraved with their paw print to help give you tangible comfort and connection.
Please Note: If you have a pet other than a dog or cat you would like memorialized, most Jewelry pieces can be engraved with a nose print, hoof print, or other defining feature. Reach out to our Customer Service team to see how we can work together to best honor your pet.
Name: Whether their full name or a funny nickname you gave them, adding it to your Jewelry will help you to feel close to their memory.
Birthstone Closure: Our Heart and Cross Urn Pendants include a beautiful Birthstone Closure featuring Swarovski® Crystals to securely hold the remains inside. You can choose the birthstone color that represents your pet's birth month, their gotcha day, or simply a shade that reminds you of them.
Symbolic Charms and Birthstone Charms: Add further meaning to your pet's memorial with Symbolic and Birthstone Charms. Symbolic Charms help tell your pet's story through lovely images, while Birthstone Charms add an extra bit of color and sparkle to your piece.
Tips for Caring for Your Ash Necklace
Your Pet Ash Necklace holds incredible meaning, which is why it should be treated with care. When you do, it will return the favor with many years of cherished connection and comfort.
To best care for your Cremation Jewelry, avoid all chemicals (including chlorine), activities (sports, etc.), and hard surfaces which can be damaging to fine metals. Cremation Urn Pendants carry precious photos and ashes; for this reason, they should not be submerged in water. Quality Jewelry should always be shielded from hairspray, bug spray, lotions, and swimming pools.
Sterling Silver or Stainless Steel Urn Pendants can simply be wiped clean with a soft cloth. Sterling Silver Urn Pendants can also be cleaned using a silver polishing cloth. Be sure to rub gently, following the grain of the metal.
If you have lost a pet, please accept our truest sympathies.
The grief that comes after a pet dies
is just as valid as the loss you feel when a human friend dies. We hope that you are on your way to peace and can continue to feel close to your buddy.