Step-by-Step Guide to Layering Necklaces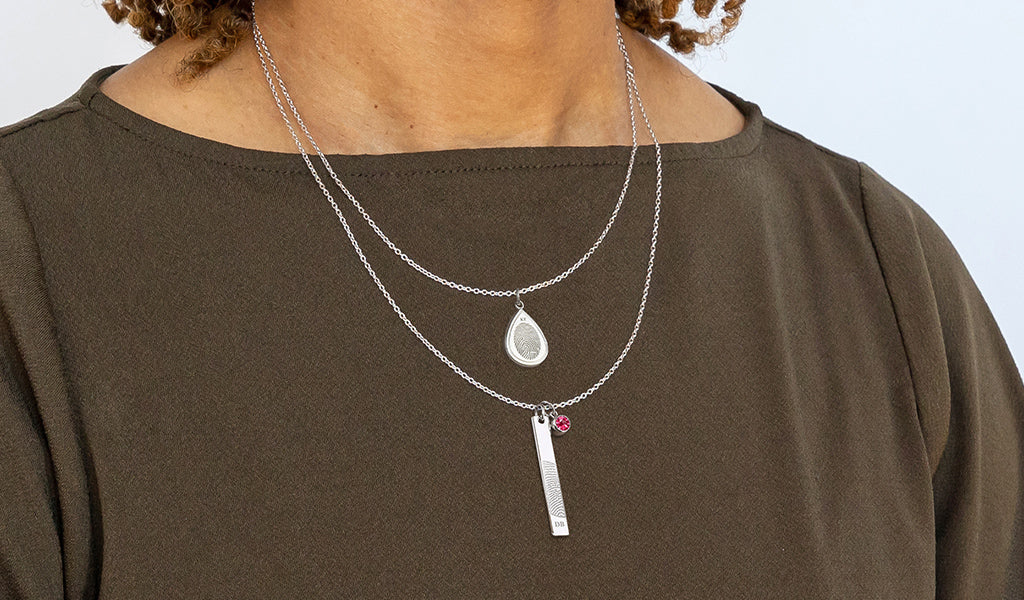 The Jewelry you wear is a personal reflection of your style and story. As you choose the pieces, you are creating a look for yourself that is full of meaning. No other fashion accessory can help you do this better than custom Layered Necklaces.
The Layered Necklace trend is growing in popularity, thanks to both its beauty and versatility. As you layer your Necklaces, you have the opportunity to build a new look that is completely your own.
How to Layer Necklaces
Step 1: Decide on the Number of Necklaces
When first beginning to layer Necklaces, it's important to decide how many you want to be a part of the finished set. Most people will layer 2-3 Necklaces together. You can add however many Necklaces that you would like, but this range helps maintain a balanced look for your Jewelry.
Step 2: Choose Your Chain Lengths
The Chain lengths of your Necklaces are an important factor to consider as you add your layers. After all, your Jewelry won't look its best if every Necklace is the same size. You want each to shine individually, so all of the Chains need to be a different length.
A good standard rule to follow when picking your Chains is to choose one that is a little shorter than your typical Necklace, one that is your normal length, and one that is a bit longer. For example, the Chain lengths you ultimately pick could be 16", 18", and 20".
Step 3: Tell a Story with the Details
While you could simply wear layered Chains, Pendants and Charms can add more meaning your Necklaces.
A Pendant Necklace engraved with a Loved One's Fingerprint can be paired with a Birthstone Charm Necklace and a Symbolic Charm Necklace to represent a connection to someone significant in your life. The different details of each Necklace tell their own unique story, and when combined, are a gorgeous and loving tribute that is forever near your heart.
More Inspiration for Your Layered Look
Personalize Your Necklace with a Statement Pendant
Instead of a traditional style, consider using an alternative Pendant type on one layer of your Necklace set. Our Military Dog Tag or Vertical Bar Pendant will add character to your Jewelry. Plus, both can be customized further with a fingerprint and engraved inscription.
Elevate Your Style with Lariat Chains
Different Chain styles can add beauty and personality to your Layered Necklaces. Mix and match standard Cable Chains with Leather Cords or even a Lariat Necklace for a look that has more depth.
Change Up Your Metal Type
Not every Necklace in your layered set needs to be the same metal or color type. Try changing up one or more of your Necklaces to help any statement pieces stand out. White Gold and Rose Gold Jewelry often go well together and can create a soft, feminine look.
There are endless personalization options when it comes to layering Necklaces. Try swapping out your Pendants, adding another Charm, adjusting your Chain lengths, and more to create a new look each time you wear your Jewelry.
Get started designing your own Layered Necklace set and find inspiration by browsing our customizable Pendants, Charms, Lariats, and more.