The Meaning of Birthstones by Month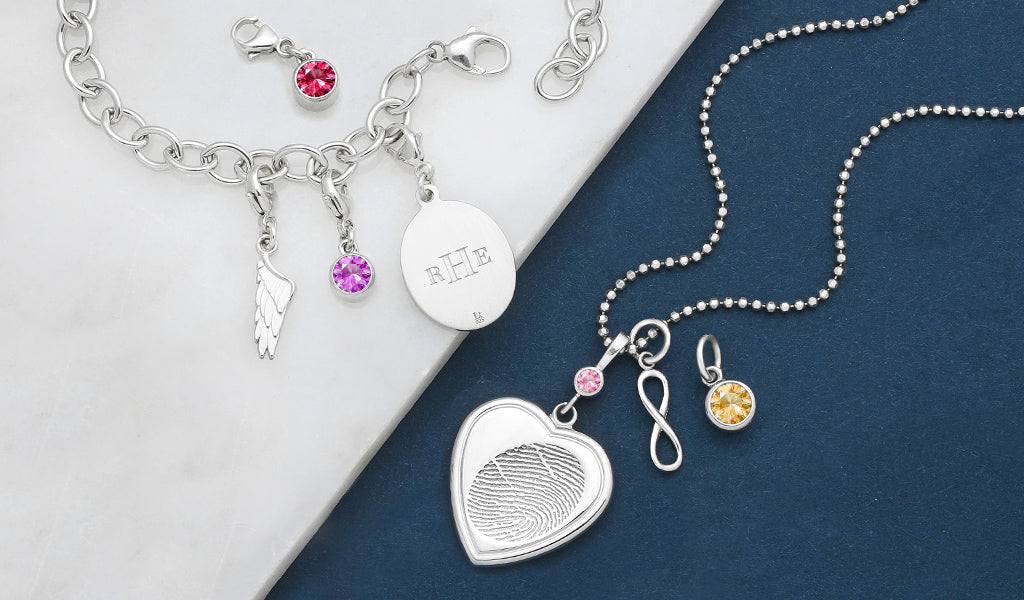 Personalized Jewelry can have incredible meaning, especially when paired with a birthstone. Known for their color and the birth dates they represent, birthstones are a beautiful way to tell the story of a Loved One.
January Birthstone – Garnet
Known for its red hue, garnet is believed to provide peace, loyalty, and friendship.
February Birthstone – Amethyst
Amethyst is a gorgeous shade of purple and is known to deliver courage.
March Birthstone – Aquamarine
A soft shade of blue, aquamarine is closely related to feelings of peace, tranquility, and clarity.
April Birthstone – Diamond
One of the most popular gemstones, diamonds are thought to represent happiness.
May Birthstone – Emerald
The green shade of emerald is known for symbolizing wisdom and love.
June Birthstone – Alexandrite
Alexandrite's coloring is believed to showcase power and passion.
July Birthstone - Ruby
A vivid shade of red, rubies are well known for their association with energy.
August Birthstone – Peridot
Peridot is a stunning green gemstone that is thought to represent strength.
September Birthstone – Sapphire
The blue sapphire gemstone has been believed to symbolize Heaven, as well as faithfulness.
October Birthstone – Tourmaline
The pink version of tourmaline is known for being a symbol of gentleness.
November Birthstone – Topaz
Topaz is a versatile gemstone, thought to represent affection as well as intellect.
December Birthstone – Zircon
A lovely color of blue, zircon is believed to provide prosperity.
Fingerprint Jewelry from Legacy Touch can be further personalized with Birthstone Charms that feature Swarovski® Crystals. These accessories are not gemstones, but they do have a color similar to the birthstone they represent. Whether worn to symbolize a birth month or simply a favorite shade, each Birthstone Charm tells your Loved One's unique story while keeping their spirit near.
Please Note: Available Birthstone Charm colors are subject to change. View the most up-to-date information as you personalize your Jewelry.