Types of Memorial Necklaces & How They Comfort Families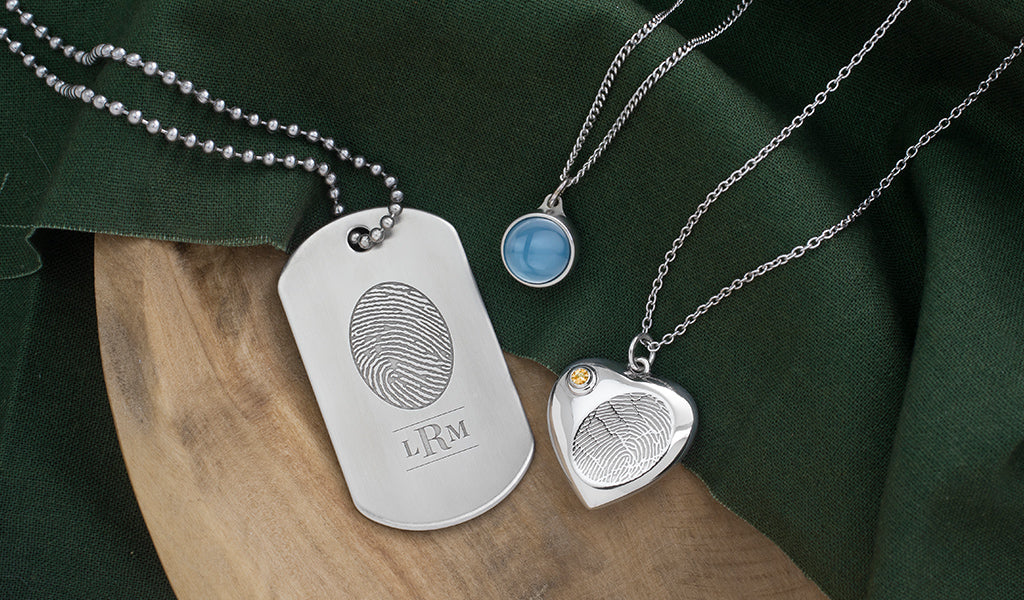 When someone we love passes away, it can be comforting to hold a tangible reminder of them near. Memorial Necklaces engraved with a fingerprint can provide that precious connection to families who are grieving.
What Are Memorial Necklaces?
Memorial Necklaces are thoughtful pieces of Jewelry that are made to honor a Loved One who has died. Most Necklace memorials can be customized to tell your late Loved One's unique story through birthstones, inscriptions, and even engraved fingerprints. These heirlooms help those who are grieving to find comfort and allow for them to always keep the memory of their Loved One near.
Different Styles of Memorial Necklaces
There is a memorial Necklace style for everyone in the family. Choose from feminine Charms to masculine Dog Tags to Cremation Urn Pendants for a Necklace that is the most meaningful to you.
Pendant
Delicately engraved with the details of your Loved One's unique fingerprint, our Pendants help you to memorialize someone who has passed. Available in Heart, Offset Heart, Tear Drop, Oval, and Dog Tag shapes, each Pendant is as special as the bond you shared.
Charm
A touching way to stay connected with a late Loved One, our Fingerprint Charms are smaller and lighter than Pendants while still acting as a tangible connection to the people you miss. Our Fingerprint Charms can even be outfitted with a lobster clasp if you or someone you love would rather wear them on a Bracelet.
Lariat
With our Lariat Necklace, you can always hold your Loved One near your heart. Our Lariat style features a Disc Charm that is lovingly engraved with a fingerprint and is available in Sterling Silver or Yellow Gold.
Locket
A Locket provides timeless connection to your Loved One. Showcasing a favorite photo together with their engraved fingerprint, our memorial Lockets create a more personal way to always keep the memory of the people you love near.
Urn Pendant
Cremation Necklaces are a beautiful way to keep your Loved One forever with you. Holding a small portion of cremated remains, these personalized urns offer a physical connection to someone who has died. Our Urn Pendant Necklaces are available in Heart, Cross, and Gemstone styles that respectfully honor your Loved One.
Dog Tag
Memorial Dog Tags carry special love and connection to all who wear them. Engraved with the fingerprint of a veteran or other late Loved One, our Military Dog Tags and Ultralight Aluminum Dog Tags are a custom tribute that recognizes the legacy that continues to live on.
Ways to Personalize Your Memorial Necklace
Your Loved One was unique. Honor and remember them with a memorial that is just as special by personalizing your Necklace with the following features and accessories:
Metal Type: Choose your favorite shade—from timeless Yellow Gold to beautiful Sterling Silver, modern Rose Gold, and more—for a metal type and color that emphasizes your style and your Loved One's story.
Chain: The Chain you pick for your Necklace will help determine where it will lay on your body. Pair different Chain lengths with a couple of Pendants or Charms for a gorgeous layered look that can honor multiple Loved Ones.
Fingerprint: There's nothing more unique than a fingerprint. By engraving your Loved One's print on a Necklace, you will create a memorial unlike any other. Many of our Necklace styles also have the option of being engraved with a handprint, footprint, or paw print, helping you to stay close to everyone who means the most to you.
Inscription: Words can be a powerful way to create a connection with someone we have loved. Quotes, verses, nicknames, and monograms are all great inscriptions to add to your Necklace.
Birthstone Charms: Whether worn to represent a birth month or simply a favorite color, Birthstone Charms add both meaning and beauty to memorial Jewelry.
Symbolic Charms: Showcase what was important to your Loved One by pairing your personalized Necklace with a Symbolic Charm. The Heart, Cross, Angel Wing, and other Symbolic Charm shapes all emphasize and complement your Loved One's story.
How Memorial Jewelry Comforts Families
Memorial Jewelry comforts families by giving them a tangible way to feel close to their deceased Loved One while they grieve. Fingerprint Necklaces can be especially important during this healing journey, as they provide families the opportunity to physically touch the fingerprint of their late Loved One. They can feel the lines and grooves and know that their Loved One is always present.
These custom memorials can also help families to feel their Loved One's spirit with them at visitations, funeral services, and other special events. In fact, many people find that wearing memorial Jewelry at their wedding helps to keep their late Loved One's presence near during such a big milestone.
It is our hope that the Fingerprint Necklaces we create can help you experience this precious comfort and connection to your Loved One. You have our deepest sympathies for your loss, now and always.